There are times in your life when you just need some comfort food. It could be pizza, burgers, fries, ice cream or cake. Whatever floats your boat really. But, if you have a sweet tooth like a whole lot of other people, you might want to go for something such as the Lucky Charms ice cream cake.
Scroll down for video
As it is ice cream and cake all in one, it will definitely give you double the comfort that only plain ice cream or cake can. Looking at it, you might say that it does not amount to much when compared to other ice cream cakes with all those gooey fudge, choco bit, nuts, and what not. However, if you do get to have it melt in your mouth, then you'll discover, just like we did, that it is pure heaven here on earth.
Ingredients
1 box Betty Crocker™ SuperMoist™ white cake mix
Water, oil and eggs called for on cake mix box
1/8 teaspoon green gel food color, or to desired shade of green
1 family size box (20.5 oz) Lucky Charms™ cereal
2 containers Betty Crocker™ Rich & Creamy frosting vanilla
Steps
Heat oven to 350° F. Spray 2 (8-inch) round cake pans with cooking spray; line bottoms with cooking parchment paper circles.

Make cake batter as directed on box. Stir in food color. Divide batter between pans. Bake about 30 minutes or until tops spring back when touched in center and toothpick inserted in center comes out clean. Cool in pans on cooling rack 10 minutes before turning out and cooling completely.

Meanwhile, remove marshmallows from cereal box to bowl, and set aside.

Trim off rounded cake tops. Place one layer on cake plate; drop a few tablespoons frosting on center of cake. Spread frosting evenly over cake; top with second layer. Drop about 1/3 cup frosting onto top cake layer, and spread over top and down sides in thin layer to create a "crumb coat—it's totally fine if you get crumbs in this frosting layer; this acts to seal in the stray crumbs before a final frosting.

Refrigerate crumb-coated cake 1 hour. Pile remaining frosting on top of cake, and spread evenly over top and sides, making as smooth of a frosted surface as possible. Decorate cake with marshmallows by placing them in neat rows around outside of cake. To decorate top of cake, start with a single marshmallow in center, and encircle it with rings of marshmallows until cake is completely covered in marshmallows.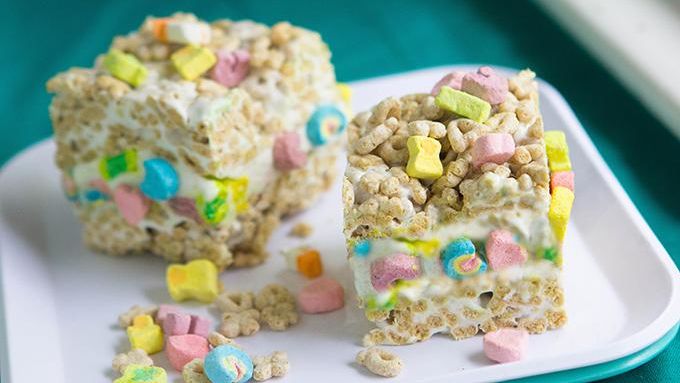 Watch the clip of this super yummy lucky charm ice cream cake below
Here are other ice cream cake creations you might want to try