Most teens nowadays have gone egocentric and are more worried about taking selfies, posting minute-by-minute updates on their social media accounts, or playing games. But not all teenagers live the same lifestyle, especially the youngsters on this list.
These ten teenagers are committed to making the world a better place for them and for the next generation. Instead of doing the usual teenage stuff, here's how these young people spend their time and energy.
Inventing a Lollipop That Cures Hiccups
In 2012, thirteen-year-old Mallory Kievman launched her unusual cure for hiccups after she herself became a victim of the stubborn condition two years prior. She had tried different kinds of folk remedies, from sipping water out of an upside-down cup to drinking salt water.
After discovering three favorite remedies, the future doctor combined the three-part cure composed of sugar, apple cider vinegar, and lollipops to form her own cure, of which a patent is still pending. She named her product Hiccupops.
Her invention has roused the attention of many, including MBA students who assisted her in launching her start-up. However, she claims that she is still in the process of "tweaking the taste" of her hiccup remedy.
Inventing Something That Will Save the World's Oceans
Dutch teenager Boyan Slat has invented a device that he claims could clean up some 20 billion tons of plastic waste from the world's oceans through a series of floating booms and processing platforms, helping save the waste materials for recycling without harming fish and plankton.
Slat came up with the brilliant idea while studying at Delft University of Technology. He had won numerous prizes and the respect of the marine experts because of his invention.
The 19-year-old inventor, however, believes it is still up to humans to end their reliance on disposable plastic items and manage waste responsibly. Nevertheless, he hopes that his invention will provide ways for the ocean to be cleaned up fast and effciently.
Creating a Pancreatic Cancer Detection Tool
Doctors often find it hard to see signs of pancreatic cancer. That is why 85 percent of the cases of pancreatic cancer are diagnosed late; less than 2 percent of them have a chance for survival. So when the news spread in 2011 that a test that might detect early pancreatic cancer was developed, the research world took notice. The shocking thing was the test was not developed by some renowned cancer research institute but by a fifteen-year-old high-school freshman named Jack Andraka.
Jack persuaded a cancer researcher to allow him to use his lab to test his theory. The test is yet to undergo years of clinical trials, but the biotech industry is sure heading to his doorstep even now.
Jack's invention won the $100,000 grand prize money at the Intel International Science Fair out of 1,500 contestants who joined.
Inventing a Gadget That Will Prevent Parents from Leaving Their Kids in Hot Cars
Eleven-year old Andrew Pelham's invention is just a simple device yet could save lives of children from being left in hot cars and die. After learning that around thirty-eight children die of this negligence, the student from Nashville thought of a brilliant idea.
He entered The Rubber Band Contest for Young Inventors, which is held each year in Akron, Ohio. There was only one rule for the contest: only rubber bands must be used in the inventions. With that in mind, Andrew created the E-Z Baby Saver and won second place, with a cash prize of US$500.
The inventions, made of duct tape and rubber bands, works simply to remind parents of a child in the back seat. the device's strap stretches from the back seat to the front and attaches to the driver's side door, making sure that any parent will not walk away from the car while a child is still inside.
Andrew used his prize money to buy a laptop and create his Web site.
Inventing an Air Freshener Made from Cow Poop
Can cow manure become an air freshener? Two high-school students from Indonesia prove it's possible.
With this alternative and environment-friendly air freshener, Dwi Nailul Izzah and Rintya Aprianti Miki won the first prize in the Science Project Olympiad in Indonesia. The air freshener is said to have a natural fragrance of herbs and is good for human health because it doesn't contain any harmful chemicals like other fresheners available in the market.
The air freshener came from cow dung from a cattle farm in Lamongan Regency of East Java. After three days of fermenting the dung, the girls extracted water from the cow dung and mixed it with coconut water. The liquid was then distilled to remove any impurities. The end product was a liquid air freshener with a natural aroma of herbs from digested cow food.
Invention a Tool That Turns CO2 into Oxygen While You Drive
Param Jaggi was still learning how to drive when he came up with a device to reduce pollution after realizing the effects of too much carbon dioxide released from cars. The seventeen-year old senior from Plano East High School was recognized by the Environmental Protection Agency for his environment-friendly invention that would clear car exhaust that causes air pollution.
Param called his device Algae Mobile, which is inserted into the exhaust pipe on the back side of a car. Through photosynthesis, algae inside the gas-permeable, aluminum alloy tube converts carbon dioxide into oxygen and releases it into the air for humans to breathe.
Param won $8,000 over the years, and in 2011, he received an EPA award for sustainability. The EPA chose his concept out of more than 1,500 at the Intel International Science Fair.
Creating a Sensor for Patients with Dementia
Kenneth Shinozuka, a fifteen-year-old New Yorker, won a $50,000 science prize for the Scientific American Science in Action Award for developing wearable sensors that send mobile alerts when a dementia patient begins to wander away from bed. He said his invention has been inspired by his grandfather who suffers from Alzheimer's disease. The teenager thought of a way to monitor his grandfather who frequently walks around away from his quarters in the middle of the night and hurts himself.
Using coin-sized wireless sensors, his invention are worn on the feet of the patient. The sensors detect pressure caused when the person stands up and triggers an audible alert on a caregiver's smartphone through an app.
Creating a Pacifier with Built-In Thermometer
Anthony Halmon of Chicago was only a freshman at Cornell University when he made a name for himself after creating a pacifier that can also be a thermometer. His creation, the Thermofier, is described as an improvement on existing models available in the market.
Halmon, who is also a young father, thought of the idea out of concern for his daughter. He could not always easily tell whether his baby is feeling well or not. Because of his invention, he was able to meet President Obama at the White House.
Halmon has always been interested in studying sociology and government, growing up in a "tough, rough" part of Chicago where "a lot of violence and gangs" occur. He himself was a victim of various gang members because of the reputation of one of his relatives. He was in his sophomore year in high school when his father died and discovered that he was to be a father too. From then on, he made it his goal to better his life for his daughter, who is now three years old.
Inventing a Chemotherapy Bag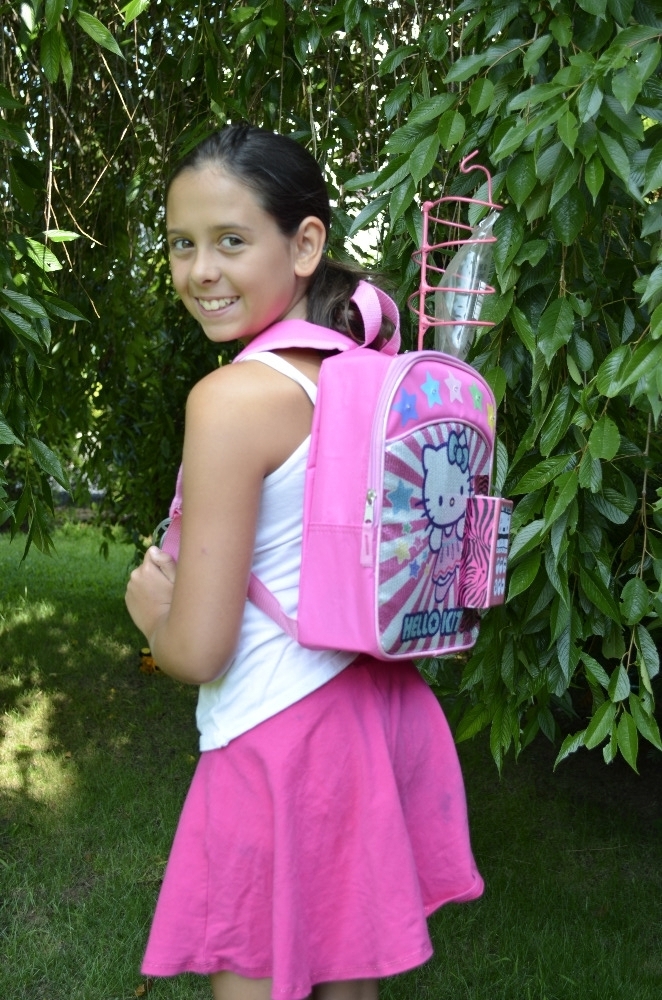 Kylie Simonds of Naugatuck, Connecticut, was eight when she was diagnosed with rhabdomyosarcoma, a cancer of the connective tissues. Right now, she is in remission, but during her ordeal with cancer, she often had problems with the IV pole wires that caused her to constantly trip. She always had to ask for help from other people to push the heavy pole around for her.
What she experienced as a cancer patient led her to invent a wearable, portable pediatric IV backpack for kids receiving chemotherapy or transfusions. The bag, which she calls an I-Pack, comes in a variety of colorful designs.
Kylie's design won a prize at the Connecticut Invention Convention in August 2014. She has already secured a patent and is trying to raise money to put the backpack into production.
Creating an Invention That Could Charge Your Phone in 20 Seconds
Bid goodbye to long hours of charging your cellphone and say hello to this eighteen-year-old high schooler's invention. In 2013, Eesha Khare brought home $50,000 prize from an international science fair for inventing a storage device that can be charged in only 20 to 30 seconds. The Supercapacitator is a fast-charging device that can store a lot of energy into a tiny space, can be charged quickly, and can be kept fully charged for a long time.
To date, Eesha uses the Supercapacitator to power a light-emitting diode or LED. She sees her invention fitting inside cellphones in the future and other portable electronic devices commonly used by many people. The device also aims to shorten or eliminate the time people rely on electrical outlets to charge their gadgets.
Her invention won her the Intel Foundation Young Scientist Award at the Intel International Science and Engineering Fair in Phoenix, Arizona.
Find out more about current inventions in these articles: