Following her diagnosis and surgery, a model is back in front of the camera. She lost 95 percent of her jaw to bone cancer.
When she was 24 years old and pregnant, Elizaveta Bulokhova from Ontario, Canada was diagnosed with osteosarcoma in her mandible. She underwent a sixteen hour surgery to remove the tumor. Her doctors advised her to have the pregnancy terminated before she had chemotherapy.
Her chemo schedule was delayed and allowed her to be able to give birth to her son ten weeks early. Bulokhova has worked in the fashion industry for seven years and photographer Manolo Ceron shot a series of photos that highlighted her scars from surgery.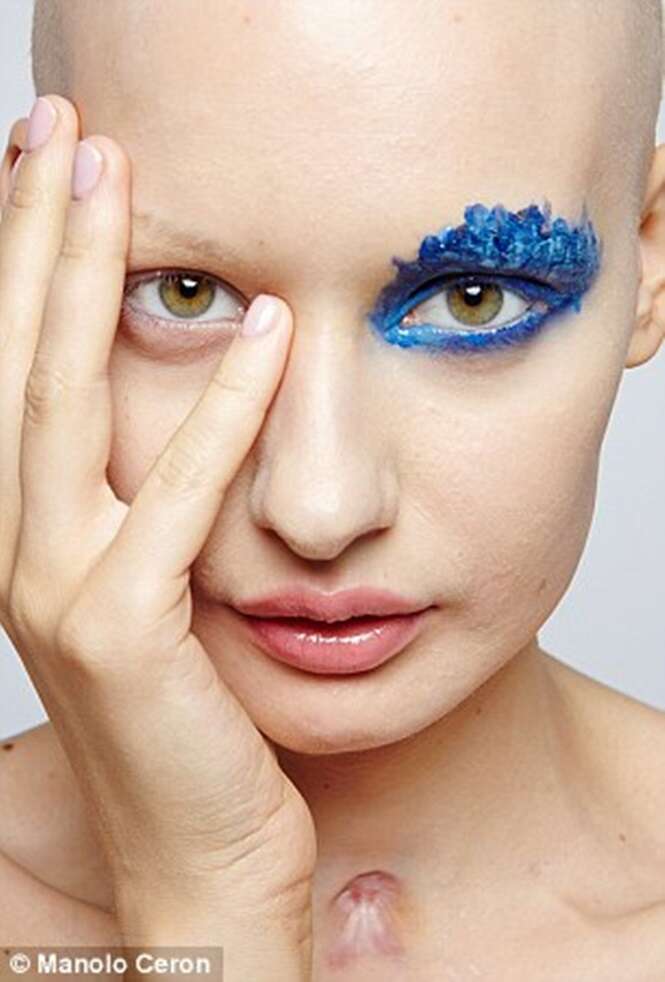 These images capture the strength and resilience of Elizaveta. She lost her hair during the chemotherapy sessions. Makeup artist Julia Stone used colorful makeup for her face in the shoot.
Her son Valentin and her boyfriend Roman Troubetskoi were also included in the photoshoot.
Elizaveta agreed to do the photo shoot because she missed working in front of the camera and her life before the diagnosis turned everything upside down. She did not consider the impact these powerful images would have.
Manolo approached Elizaveta to do the shoot, so they could tell her story in an artistic way.
The theme of the photographs is hope and strength. It will share Elizaveta's journey and show other cancer survivors that there is always hope.  In the past 14 months, she has gone through a life-altering journey.
The change in her jaw was first noticed in May 2014. At first, she just thought it was something to do with her teeth. A month later, she found out she was pregnant with Valentin.
By July, the inflammation had turned into a hard lump that was causing her pain. She went to a dentist, who told her that she could only safely have an x-ray in her second trimester. When she returned, she had to have three biopsies, which then led to her diagnosis.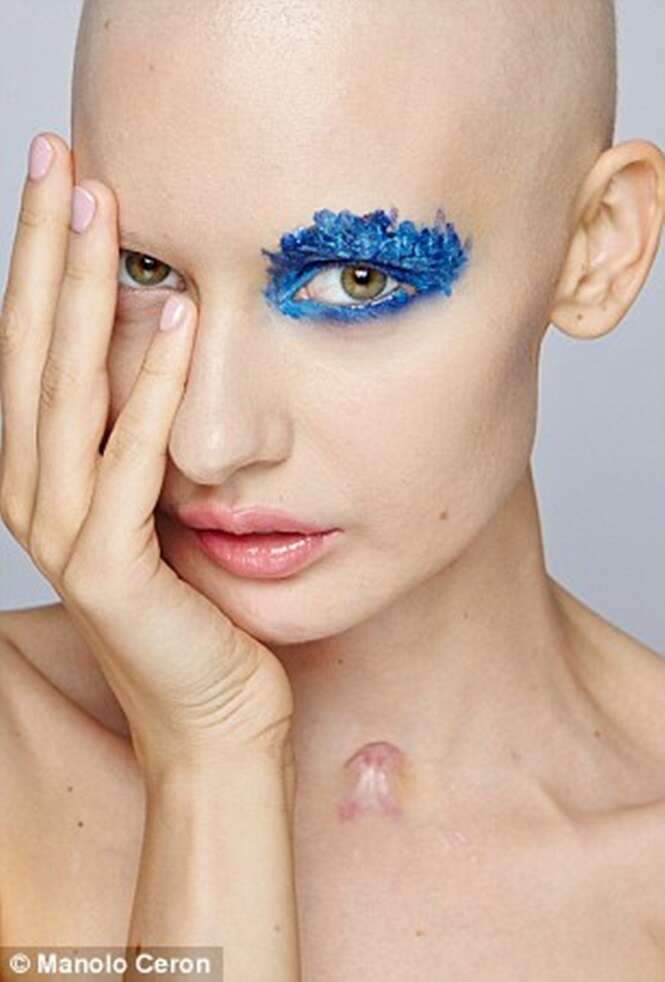 Her first surgery was sixteen hours long. Doctors removed the tumor and had to reconstruct her jaw with bone taken from her fibula.
What followed after was a series of surgeries. At one point, she was fed through a nasogastric tube because she had to have her mouth wired shut for ten weeks. During that time, Elizaveta was unable to talk, brush her teeth, or walk properly.
Doctors informed her she may have to abort the pregnancy in order to undergo chemotherapy. Elizaveta had no choice, but just to accept the circumstances whatever they turned out to be.
Because of surgical complications, her chemotherapy cycles were delayed. That meant she no longer had to end the pregnancy. At 28 weeks, she was able to safely deliver her son via Caesarean section.
A week after her son's birth, she started her first round of chemo. Her son spent 51 days in the NICU, which also gave Elizabeth time to recover. She visited him as often as she could.
Aside from the chemotherapy, Elizaveta was having trouble with her newly reconstructed jaw. She struggled to open her mouth and all foods had to be a soft consistency. Her stomach had shrunk and it was an ordeal to even eat an egg.
She missed eating good food, but had to endure so much pain. Her feeding tube had its own problems such as making her gag.
When her cancer will be in remission, she will undergo more reconstructive surgery. Her modeling career is still on hold, but she's happy Manolo gave her a chance to relive her past.