If you've got money to burn, you'll definitely be in a different league when you shop until you drop. You will most likely be out on the street buying pretty expensive stuff for this summer. You'll probably be popping bottles and spilling caviar on a yacht.
If you're not part of the rich circle, no need to be sad. You can still pretend you're part of the group even if it's just for one percent. How is that possible, you ask? We will show you ten of the most absurd water toys for rich kids. At least you can still marvel and appreciate their beauty even if it's just by looking.
Flying Hovercraft
Price: $190,000
The people at Hammacher Schlemmer are offering a hovering that can genuinely take flight. Why did they do this? Simply because gliding on ice, snow, sand, mud, grass, and a couple of inches of air over water isn't enough. The craft can't fly high up in the sky, but it can navigate above water surface at a speed of 70 mph.
WaterCar
Price: $135,000
The one responsible for this marvelous vehicle is the WaterCar company. They manufacture water and land vehicle like the Quadski XL. However, they've come up with an idea that definitely takes things to the extreme. As shown in the video above, it easily goes from sand to the surf and can sit up to four people. In the water, it has a speed of 44 mph for about 160 miles on a single tank. When it's out of the water, it resembles a small SUV and can reach speeds of up to 80 mph.
Seabreacher Killer Whale Submarine
Price: $90,000
It's incredible how this submarine actually looks like a real-life killer whale. With a 255 hp engine, the watercraft lets the driver reach 25 mph underwater and 50 mph on the water's surface. Since we're talking about a killer whale submarine, maybe it's possible to mimic the scene where the whale ollies a boy while breaching the water in slow motion, in Free Willy. This submarine is manufactured by Das Boot.
The $90,000 price tag includes vinyl seats, an LCD screen connected to a camera in the dorsal fin with which you'll be able to view a live feed showing your awesomeness, and all the standard gauges.
The Barbecue Dining Boat
Price: $50,000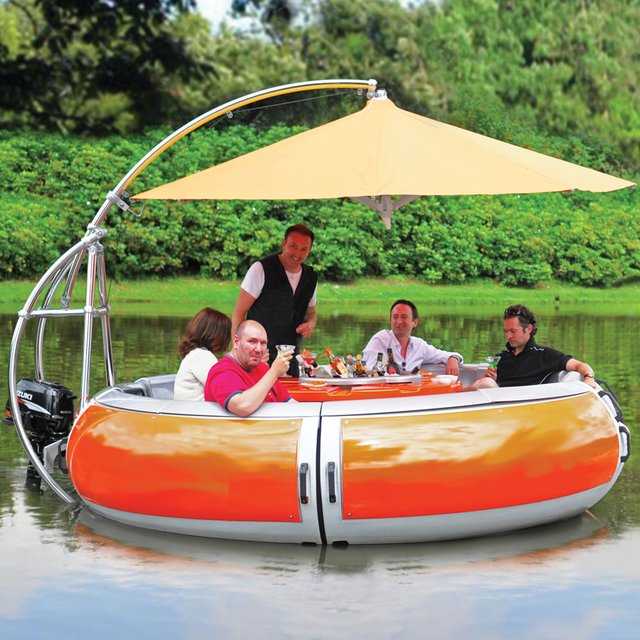 With the this dining boat, speed isn't an issue. Seriously, who would want to rush off to some place else when you're floating on a 24-inch steel barbecue grill in the middle of a lake along with nine of your buddies? Who would want to miss out on the barbecue!
Quadski XL
Price: $40,000
Have you thought about an ATV and jet ski and said, "It would be an insane idea if someone made a hybrid and mixed both of them!" Well, that's exactly what happened. The Gibbs Sports made the Quadski XL. It looks like an amphibious toy and is actually pretty cool as well. The Web site for Gibbs Sports mentions that the vehicles are merely prototypes, but it wouldn't be a total surprise if a couple of these bad boys are seen cruising around the Hamptons in the future.
Quadrofoil
Price: $25,000
Despite the hydrofoil technology dating back to the early 1900s, the Quadrofoil made it look awesome. The personal watercraft has a hollow and unsinkable hull. It features a silent motor for you to sneak up on fish. It's 100 percent electric so it doesn't consume gas, and it cruises at 25 mph. It is very expensive, but it's worth all the trouble.
HotTug
Price: $24,950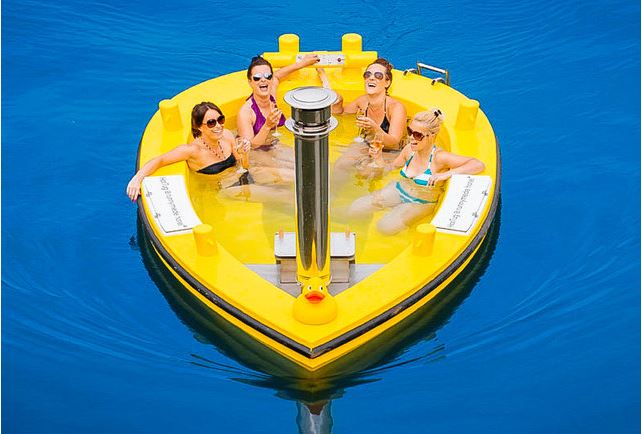 The HotTug's clever name means that it's a half hot tub, half wood-fired tug boat. It's quite useful if you'd like to have a hot bath while swimming in the ocean.
Radinn Wakejet Cruise
Price: $16,000
The Radinn Wakejet Cruise is a wakeboard with a wireless handheld controller and a built-in jet propulsion engine. It's very fun to use if you prefer to enjoy the vast ocean as a playground for yourself.
Jetsurf
Price: $13,500
The board consists of Kevlar and lightweight carbon, making it light and durable. While the motor propels the rider up to 35 mph, the user can surf the waves with ease. It's a surfboard for those who want the experience but don't really want to do all the work.
Flyboard
Price: $5,850
A Flyboard is a water jetpack that lets you dive in and out of the ocea. With this, you'll be able to pull off insane flips and stunts.