Been staying at hotels most of your life due to travel, business, or other personal reasons? While front desk agents and other hotel attendants may be hospitable and nice to you, there are some secrets that they do not want you to know. Here are ten tips on how to score deals (and free stuff) from hotels.
Always call the hotel's local number.
When making reservations over the phone, skip dialing the area code and go directly to the hotel's local number. Not only will you be able to talk to the hotel manager himself about your online research, but you can also ask him if they can offer you a better rate than the hotels you've inquired about.
Become a regular visitor.
If you visit a certain place regularly, make it a point to stay at the same hotel every time you're in town. Familiarity is the key as employees will learn your name, face, and even your inclinations. And if you're a constant tipper, they might compliment you with nicer rooms and faster services.
Intimidate if you need to, but do it mildly.
If you have problems with your accommodation, don't be a jerk and make a seat in the hotel lobby. Simply and calmly bring your concern at the the front desk and explain how you want it to be addressed. If the front desk doesn't seem too interested in solving the issue, get his or her name, including the manager's. That simple gesture will be enough to wake them up and do something.
Avoid getting "walked."
Though this won't save you any money, it will save you a whole lot of hassle. Here's a secret: hotels (and airlines too) overbook to compensate for unavoidable no-shows and cancellations. Every once in a while, hotels get filled up with many people but without much room to accommodate them. Should you not be on time to check in to your hotel room, the management might decide to give your room up to the next guest. To avoid this hassle, check in as early as possible to ensure that you don't get sent down the streets looking for another hotel to stay in.
Online discount booking sucks.
If you're looking for the cheapest room deals on the Web, chances are, you'll find your room just that—cheap. What you look for is what you get. Hotels don't get too much profit from you if you're booking through a third-party site, so they most likely will pay less attention to your requests. If it is really inevitable to look for the cheapest rate online, cut out any middle man and call the hotel directly to book. Who knows, they may even get you an upgrade.
Same with the movie fees.
Generally, hotels pay a flat subscription fee for the movies they offer. So if you've included "movies" in your list of hotel services, make sure you really want to watch a movie during your stay. To avoid this sitch, just call the front desk down and say you just want the charge dropped. You will save the front desk agent some headache and you a little cash. Truly a win-win situation.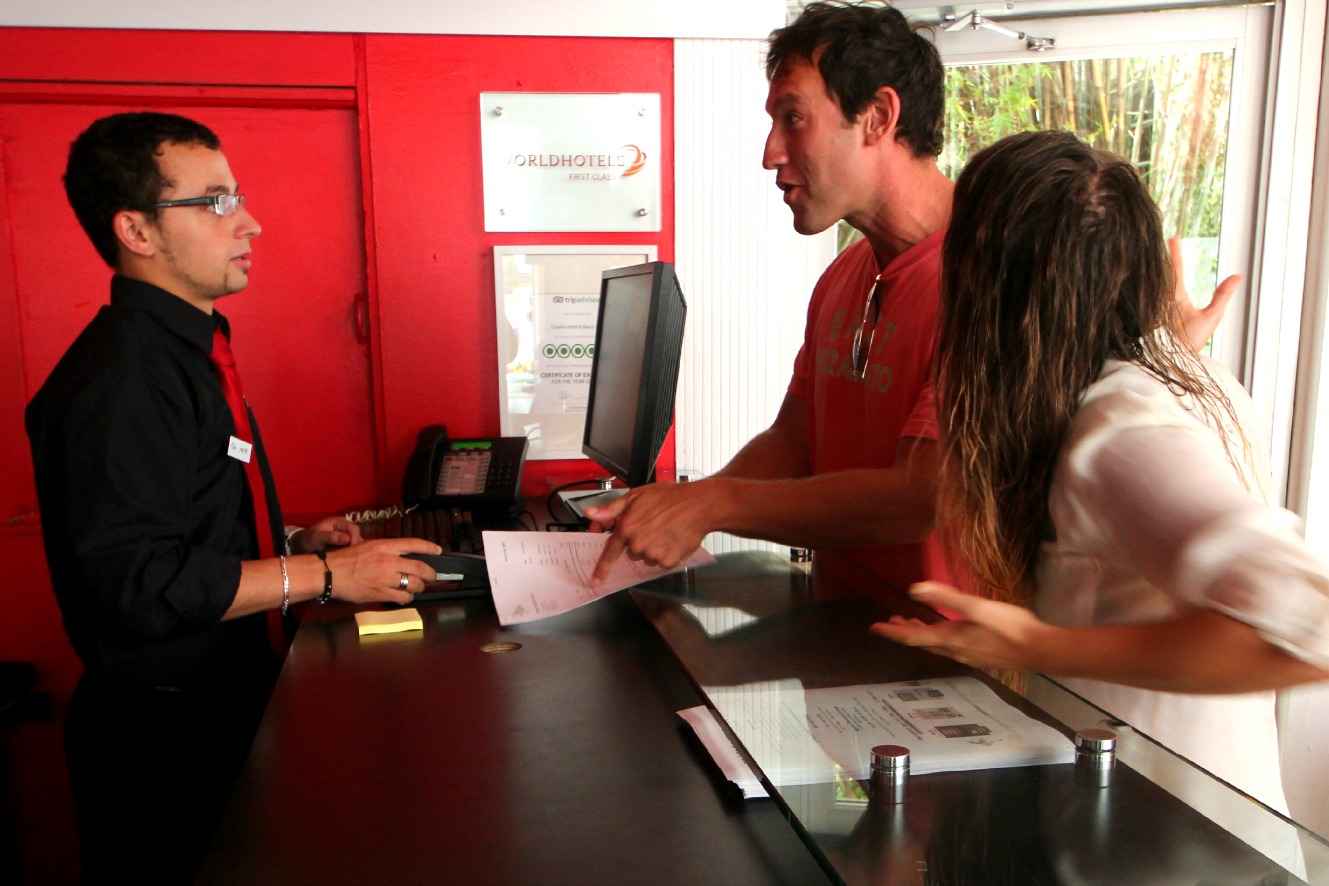 Tipping the front desk works.
Wanting to get that room with the best view of the lake? Or a large bathroom, perhaps? Tipping the front desk manager upon checking in is often enough to remind you that yes, there is an available room with a lake view or a spacious bathroom. It could also mean extra charges dropped or late check-out times offered.
Steal that bathrobe right away.
Stealing the plush bathrobe home with you is not big deal, so long as the hotel doesn't catch you red-handed. Simply taking one upon checking out doesn't work because they'll charge you when they realize it's missing (main reason they keep your credit card on file). Here's one trick for you to have that much-coveted robe: as soon as you arrive, sneak that robe into your suitcase, then call down later that night to inform that you don't have any robe in your bathroom. Don't forget to add that you need it right away. (Note: for informational purposes only.)
Arrange for an early check-in before you arrive.
When hotels are not more than 80 percent full, rooms are given out on a first-come, first-served basis. Simply call in advance and reserve a room that will be vacant the night before you arrive. Or if you have already booked a room, call in to say that you'd like to "pre-register," a hotel buzz word that means you want to pre-check-in.
Make clever last-minute cancellations.
Sometimes plans change, and you simply cannot be there in your hotel room as expected. Here's one sure-fire sneaky way to avoid the entire cancellation fee without having to pay much for it. Call the hotel and tell them your appointment in town was moved to next week and that you'd like to move your room reservation to that date as well. You can call again the next day (and hopefully talk with someone different) and cancel again another days in advance. Sneaky, right?
Here are other practical life hacks that might be helpful to you: