Looking for a trip that will add more spice to your relationship? Pack your bags and head off to some of the most exotic tourist destinations in India—beaches under the moonlight to sunset views from the hilltop—that can help you strengthen the bond.
As the destinations are stunningly perfect, it is of utmost importance to plan in advance where you are going to stay. Of course, you don't want your bad choice in accommodation to ruin your honeymoon or getaway, right?
So here are some romantic resorts enjoyed by many couples that you might want to check. These resorts have great facilities that will assure you of a pleasing experience of your stay in India.
Ananda Spa Resort, Uttarakhand
Uttarakhand is mostly covered by thick greens, which makes it a must-see holiday destination in India you can't afford to miss. If absolute peace is what you're looking for and want to stay miles away from the chaotic city life, head off to Ananda. The resort overlooks the valley and has facilities like river rafting and wildlife Safaris.
Avion Holiday Resort, Lonavala
The lush green peaks of Lonavala is another place in the country that assures of some romantic moments to cherish. Aside from discos and a swimming pool, special shows for visitors are occasionally organized by the hotel.

Bonjour Bonheur Ocean Spray, Pondicherry
Pondicherry, once a French colony, is now one of the best tourist hot spots in the country that will surely exceed your expectations. It offers the finest examples of French architecture, pristine beaches, and the Bonjour Bonheur Ocean Spray. The resort has its own man-made lake, a spa, friendly staff, and a comfortable ambiance. This is truly the best place to unwind!
Fortune Resort Bay Island, Port Blair
With its crystal-clear water and the white sands, Fortune Resort Bay Island can excite the minds of any traveler. Thanks to its welcoming staff and amazing ambiance, you will really enjoy spending quality time getting soaked in the perfect beaches and have a good-time swim in the pool inside the resort.
Hotel Four Seasons, Mumbai
Mumbai is the last place we would think of when we visit India because of its disorderly lifestyle and crowded public spaces. But wait till you visit Hotel Four Seasons. For a romantic evening, enjoy the spectacular view of the metropolitan from the terrace of this modern hotel, while sipping champagne with your loved one.
Kumarakom Lake Resort
Because of Kumarakom, Kerala came to be known as a world tourist destination. Located adjacent to the Vembanad Lake, the resort provides you with many enjoyable choices. You can opt to cruise along the lake on a traditional boat or take a glimpse of the lifestyle of the inhabitants while on a boat ride.
Marbela Beach Resort, Morjim, Goa
Located in the quiet town of Morjim in Goa, Marbela Beach Resort is a place you just can't afford to miss. The place is quite peaceful and has a beach that not many tourists have set their foot on yet. Of course, the immaculate sea is best viewed under the moonlight from the resort with the one you love the most.
Mayfair Hotels, Sikkim
Sikkim is considered by many tourists as an embodiment of natural beauty and is a favorite by many honeymooners over the past few years. Without a doubt, Mayfair Hotel is one of the best places to stay when you're in town.
From its exterior walls that depict colonial architecture to its luxurious spa, guests will absolutely love the place. Nature lovers will also be assisted in their quest of exploring Sikkim through many kinds of adventure trips.
Nature Resorts, Ooty
Dubbed as Little Switzerland, Udagamandalam or Ooty, is a perfect haven for many lovers. Nature Resorts offers one of the finest options for a comfortable stay when in town.
Oberoi Amarvilas, Agra
Wishing to take a sight of the iconic Taj Mahal? Stay at the Oberoi Amarvilas Hotel, another architectural wonder in Agra. This luxurious hotel boasts of terraced lawns, fountains, and architecture of the Mughal era. Plus, you also get an exclusive view of the Taj Mahal from the Amarvilas.
Orange County, Coorg
Orange County is a traveler's best must-visit place when in Coorg, the Scotland of the East. The scenic 300-acre county of coffee plantation has facilities that makes a trip to this resort worthwhile. The resort's spa also offers various kinds of Ayurvedic spa treatments that let you de-stress and help cure various sickness.
Park Hyatt Goa Resort and Spa
When a traveler thinks of Goa, only one thing comes to mind: vacations! A lot of resorts have mushroomed along its beaches, but Park Hyatt bests them all in giving an average tourist create an awesome experiences. Hyatt faces the tranquil Arossim Beach. While staying at this world-class hotel, make sure to be pampered in its spa, which is the hotel's main attraction.
Shaam E Sarhad, Kutch, Gujarat
If you want to experience a Kutch style of living, Shaam E Sarhad is the place to go. The resort offers ancient-styled cottages, something that a person needs to experience at least once within his lifetime.
Taj Usha Kiran Palace, Gwalior
The Indian state of Madhya Pradesh is one of the greatest tourist hubs in the country and prides itself of its thick green cover and wildlife. The state also houses scores of palaces, many of which were converted into guest houses. It has also hosted the King of England and many other dignitaries. Taj Usha Kiran Palace in Gwalior is definitely an ideal place to stay when visiting the town with your loved one.
The Khyber Himalayan Resort and Spa, Gulmarg, Kashmir
A trip to Kashmir in the northernmost state of India will never be complete without staying at the Khyber Himalayan Resort and Spa. The resort offers skiing trips and treks in the valley. This heaven on earth is aptly a perfect mix of serenity and adventure!
The Leela Kempinski, Bengaluru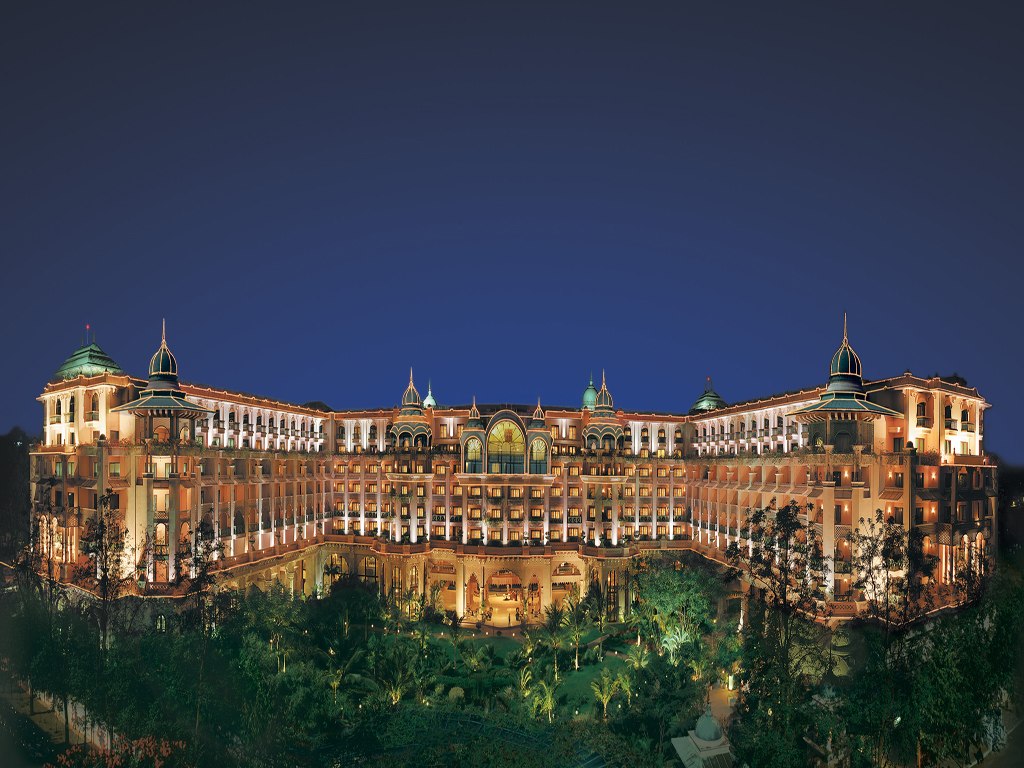 Leela Kempinski is located in one of the busiest cities in India—Bengaluru. Its elegant presidential suites and architectural designs have made it the best choice for various celebrities visiting the city. The dining space, which is brightened by chandeliers, makes every meal even more enjoyable. It also has lush green lawns, impressive fountains, and a spa.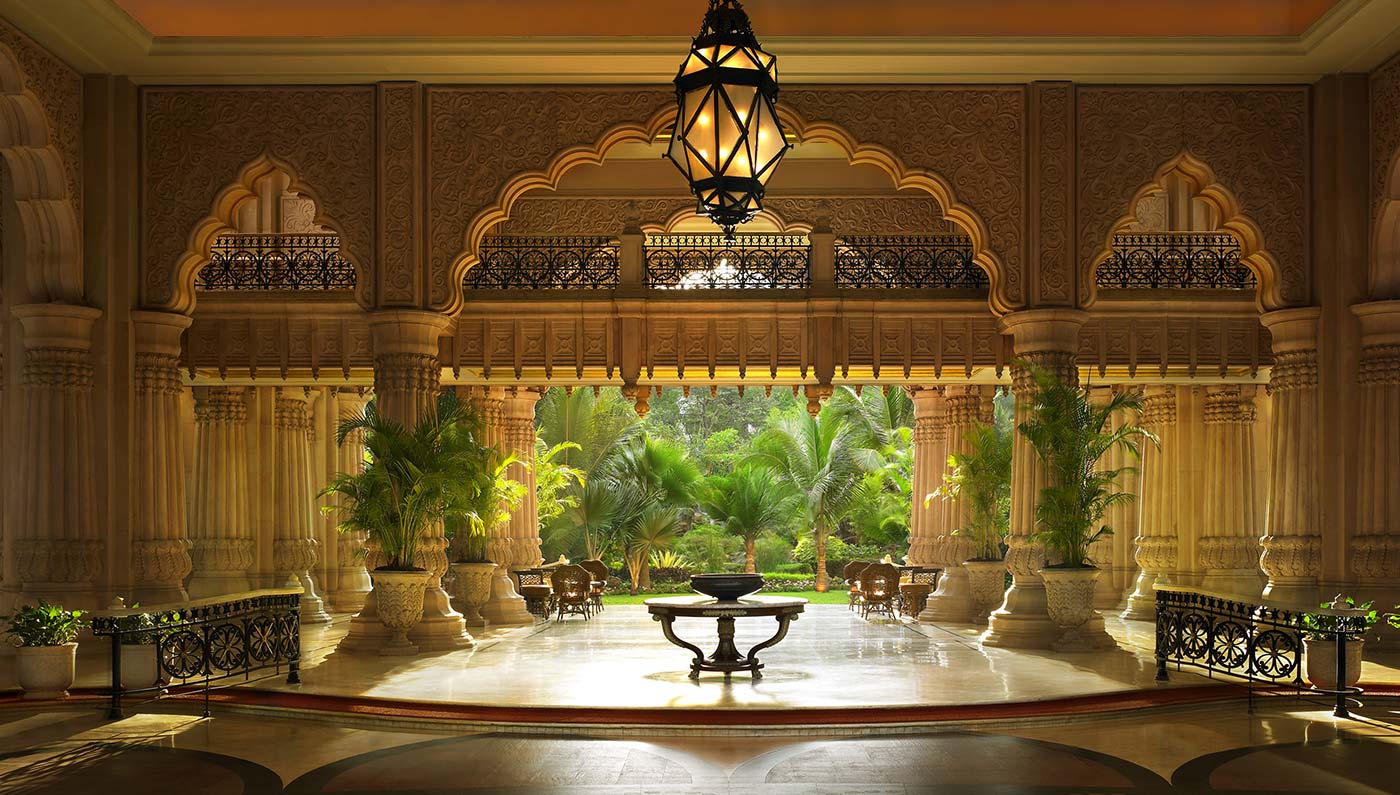 The Leisure Hotels Group of Resorts, Uttarakhand
As it is known to be the home to the majestic Indian tiger, the Corbett National Park is widely visited by wildlife enthusiasts. Nestled well inside the thick jungles are the resorts The Hideaway River Lodge and The River View Retreat, which are all part of the Leisure Hotels group. The hotels have various options for recreation like their swimming pools and exotic spas that will surely make your vacation memorable.
The Oberoi Udaivilas, Udaipur
Known for its palaces, the state of Rajasthan attracts thousands of tourists every year. But of all palaces, the Oberoi Udaivilas is the palace hotel that gives you that royal treatment once you are in its premises. With its elegant suites, extraordinary architecture, and accommodating staff, this pampering place should definitely be in your bucket list.
Solang Valley Resort, Manali
Manali, a town backdropped by the snowcapped Himalayan hills, is better experienced with a stay at the Solang Valley Resort. With a multicuisine restaurant, spa, gym, and other common facilities, tourists have all the choices laid in front of them to make the best vacation. Other recreational skills like skiing are offered in the resort.
Vythiri Resort, Wayanad, Kerala
Vythiri Resort is one concrete example of a true nature lover's resort, located in the lush green of the Western Ghats. Aside from its deluxe rooms and warm ambiance, the resort overlooks the tangled thick jungles and has a cool stream nearby.
Because of the monsoons that pass by regularly, Wayanad is turned into a paradise. Imagine waking up to the sounds of the gushing water and coming out to a breathtaking view of nature on your balcony. Isn't it fantastic?
Planning your next trip? These articles might help you.