Earth is dotted with beautiful buildings. The Taj Mahal in India, Hagia Sophia in Turkey, La Sagrada Familia in Spain, Imam Mosque in Iran, and so much more. Though these beautiful structures still stand today, they have been overshadowed by more modern—thus, more complicated—architecture.
Here are ten of the most glamorous buildings around the world that gives us a modern-time definition of beauty.
10. De Rotterdam
The most celebrated architect of the Netherlands, Rem Koolhaas, has completed the largest building in the country and one of the biggest in Europe. The building is a vertical city with three interconnected towers that could accommodate offices, apartments, a hotel, conference facilities, shops, restaurants, and cafés.
9. Shenzhen International Airport Terminal
The Terminal 3 at Shenzhen Bao'an International Airport in China was designed by Italian architects Massimiliano and Doriana Fuksas. Aside from its massive size, the building has a futuristic design. Its translucent facade allows the daylight to penetrate the interior.
8. Statoil's Norway HQ
The Statoil Headquarters has been created on the site of the former Oslo airpost at Fornebu, an area outside the city of Stavanger that is rapidly transforming into a bustling business center. This innovative and prize-winning structure was designed by A-lab Architects.
7. Heydar Aliyev Center
The Heydar Aliyev Center was designed to be he primary building for the cultural programs in Azerbaijan. The center, which was designed by Iraqi-British architect Zaha Hadid, expresses the Azerian culture. All functions and entrances of the center are represented in a single continuous surface.
6. The La Trobe Institute for Molecular Science
The La Trobe Institute for Molecular Science is located in the Bundoora campus of La Trobe University in Melbourne, Australia. It is a six-story building with hexagonal windows across its front and rear facades.
5. Dalian International Conference Center
Designed by Austrian architects from Bureau of Coop Himmelb, Dalian International Conference Center houses a conference center, a theater, an opera house, an exhibition area, and a parking, delivery, and disposal space.
4. Emporia
Emporia is prominently an urban planning project along Boulevarden and Stationsgatan in Hyllie, on the south side of Malmö. Designed by Wingårdhs Architects, the mixed-use development building is where offices, housing, and retail come together.
3. Hotel Parkroyal
The Parkroyal on Pickering is a very public and very Singaporean hotel. A creation by by WOHA Architects, the building is designed as a hotel-as-garden that has the potential to grow the site green.
2. Aquarium Blue Planet
This is one of the world's biggest aquariums in a swirling silver volume that resembles a bird's eye or a huge whirlpool. The building, designed by Copenhagen-based architectural firm 3XN, is located just a few walks away from Copenhagen Airport.
1. Sliced Porosity Block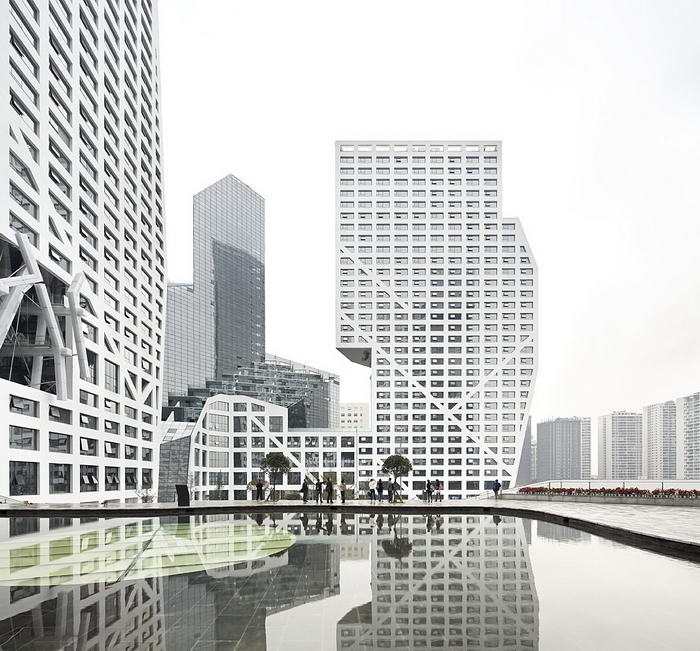 The Sliced Porosity Block is a cluster of five towers enclosing  public plaza in Chengdu, China. Designed by Stevel Holl Architects, its white concrete frameworks are expressed on the exterior of the towers and reveal diagonal braces that help the structure withstand the impact of earthquakes.