Wouldn't it be nice to have a drink while plopping in the cool waters of a swimming pool? That would be a good way to chill this summer. Just wade over and surprise, surprise there's a bar in the pool.
These type of cool summer getaways are popular in Cancun and other exotic summer destinations but would you believe that they also exist here in America? Here are 15 of these cool swim-up bars in America. Some of them may surprise you because you won't believe where they are located. So, sit back and relax and enjoy these views.
The Dip Aqua Bar at The Room Mate Grace Hotel
New York, NY
Located at the center of Times Square, you won't believe that you can an establishment of this kind in the busy city. The Roommate Grace Hotel hosts an aquatic lounge with a shallow pool that is lit with colored lights. A swim-up bar is located on one side. This is a great place to relax even if you are still in New York.
Sabino's Swim-Up Bar & Grill at The Westin La Paloma Hotel
Tucson, Arizona
Pool. Grilled food. Bar. These three words will surely tempt anyone who's looking for a summer vacation. The Sabino's Bar & Grill at The Westin La Paloma Hotel offers a variety of mouth-watering food and beverages while letting you relax in their pool. Drink and dine on their submerged bar stools while enjoying the view of Santa Catalina Mountains.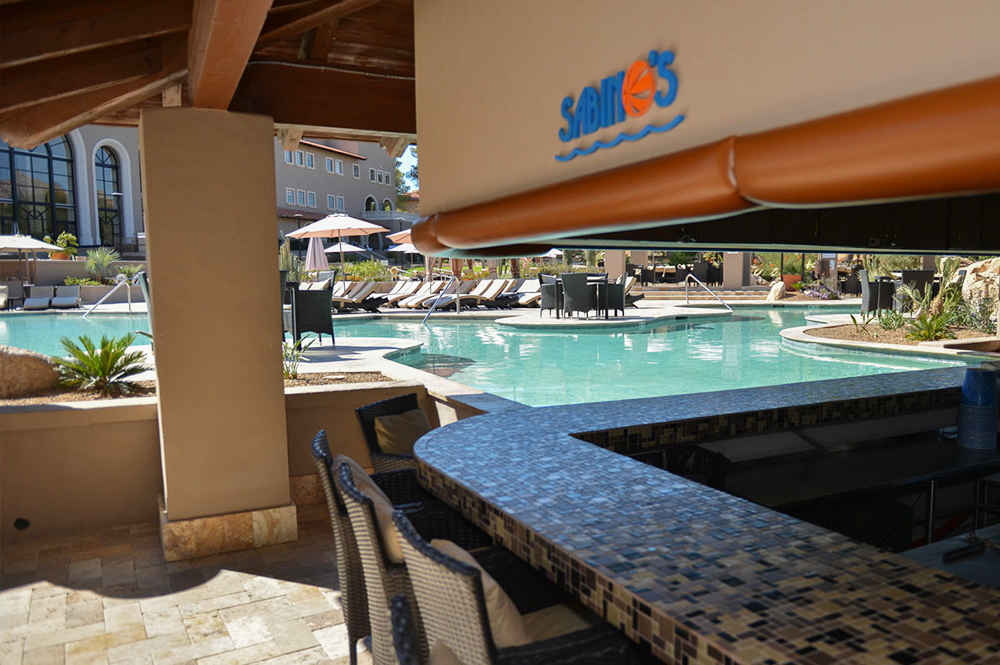 The Hilton Anatole Hotel
Dallas, TX
Trapped under the heat of the Texan sun? Why don't you head to Hilton Anatole and enjoy their pool. Oh, there's a swim-up bar too, perfect! Lounge around the Hilton Anatole's swim-up bar while sipping a strawberry mojito.
North Beach Plantation
Myrtle Beach, SC
You can enjoy the beach or you can spend your time at their swim-up bar where a caring bartender will take care of thirst. Or you can tables with their own nooks near the bar you drink away with your partner if you want a little privacy.
Four Seasons Resort Hualalai
Kailua-Kona, HI
This is the perfect place to relax. This adult-only pool is so peaceful that it has zen gardens and cabanas. More importantly, it has a swim-up pool where they serve their famous Hawaiian shaved-ice cocktails. Chill in the pool while drinking your favorite cocktail and enjoy the view of the beach.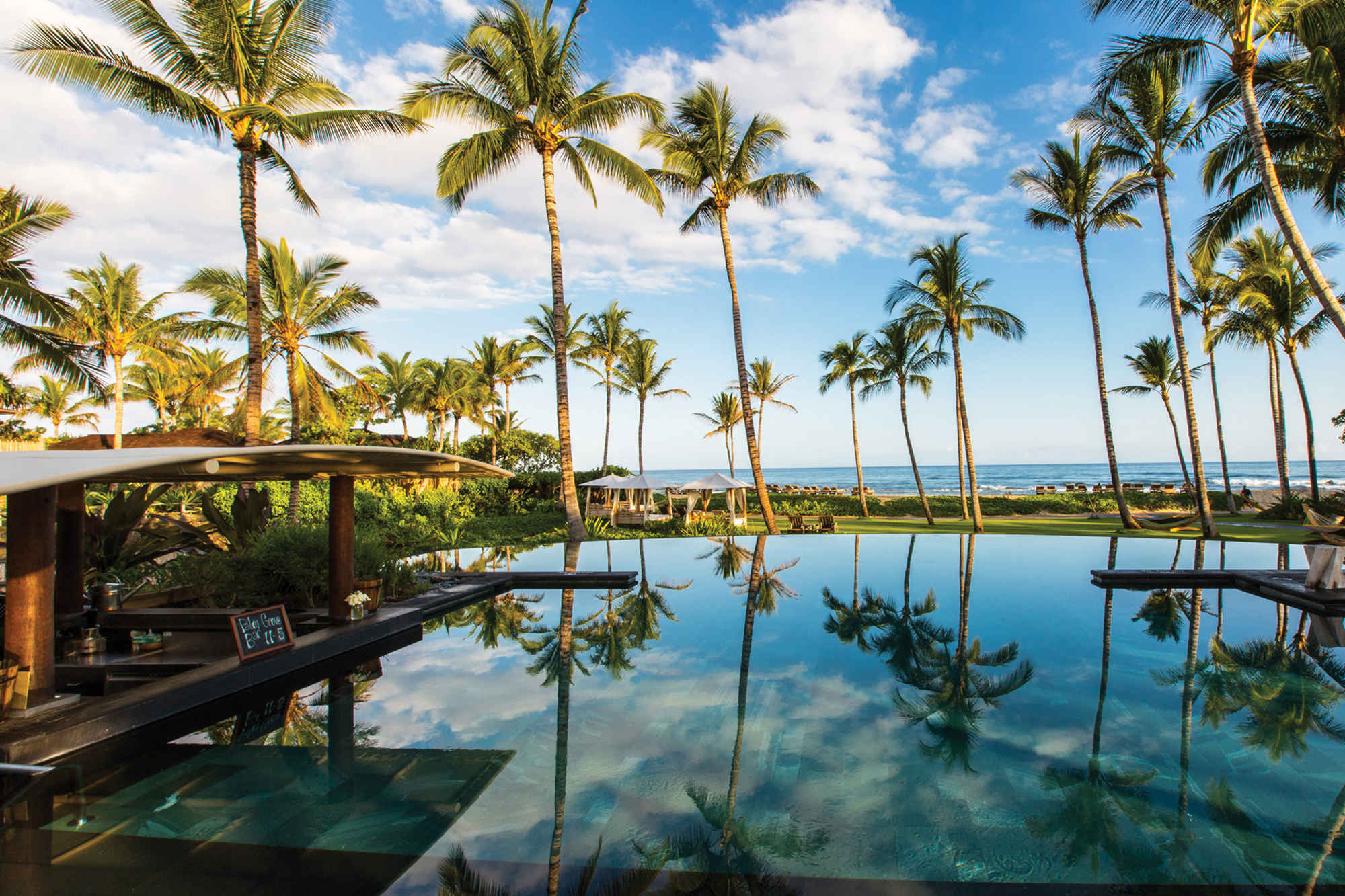 Dive Day Club at Harrah's Resort Southern California
San Diego, CA
Visit this Dive Day Club on a Saturday because non-hotel guests are allowed only during that day. Dance away during the party or just grab a drink from their swim-up bar and relax on their 400-feet lazy river and let the bass from the main stage bounce your inner tube.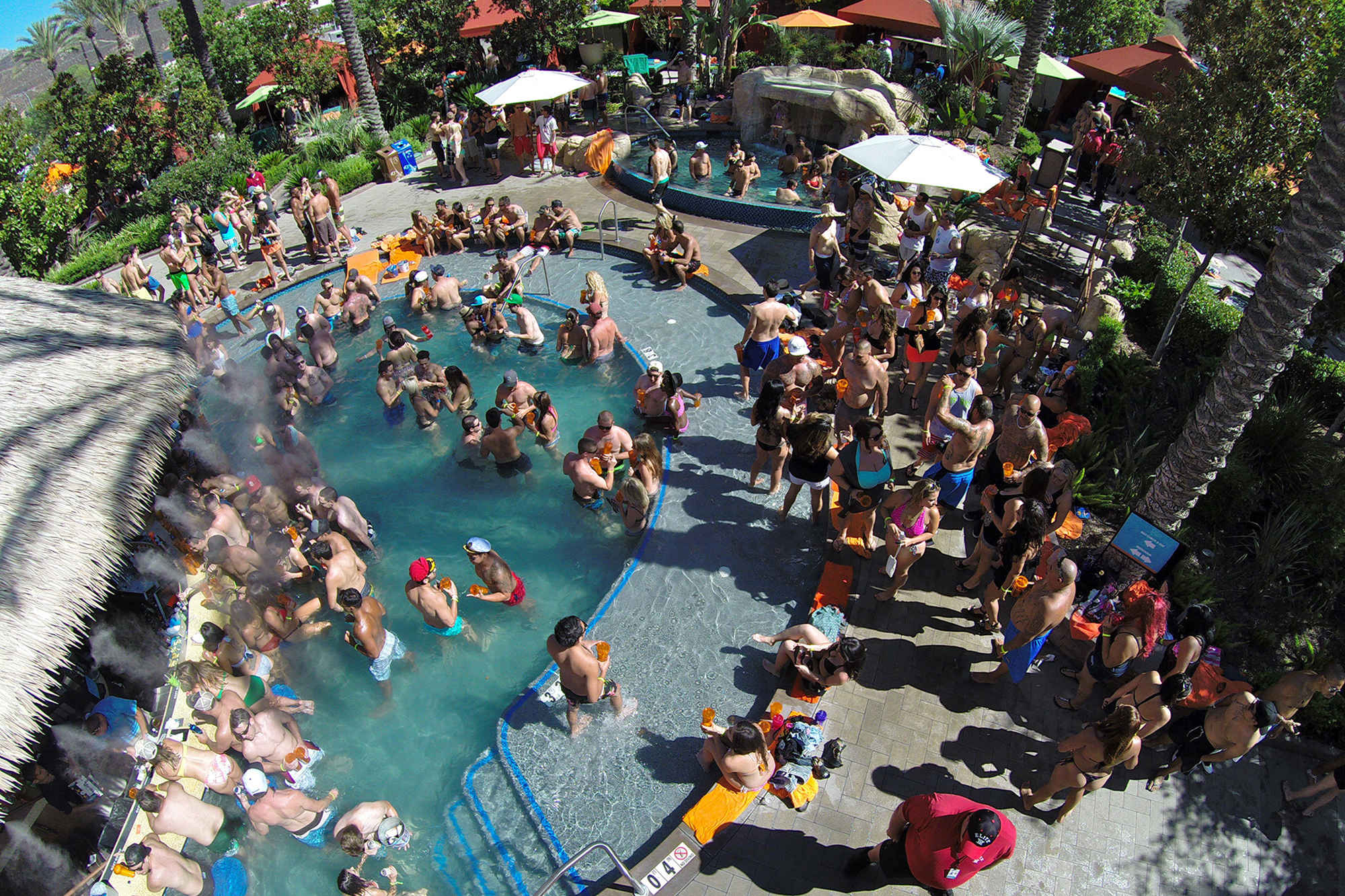 Elly Bay at Flannagan's
Columbus, OH
The "Cancun of the Midwest," features a swim-up bar in a heated pool. A tip, go with your buddies on a Tuesday because it would be like you're on a Spring Break.
Oceanic Hotel
Wildwood, NJ
This hotel may not be as nice as Four Seasons or the Holiday Inn but you'll surely enjoy your stay here. Modestly priced with an ocean view, The Oceanic Hotel is good place to relax. Take a dip in the pool which includes a thatched roof swim-up tiki bar, jacuzzi, and poolside grill.
The Sand Bar in Adventureland Park
Des Moines, IA
At the center of Adventure park's lazy river, visitors can find the Sand Bar. The Sand Bar is a tiki bar that serves frozen cocktails. You will feel like you're not in Iowa anymore, if that doesn't work, you need more Bermuda Blitzes.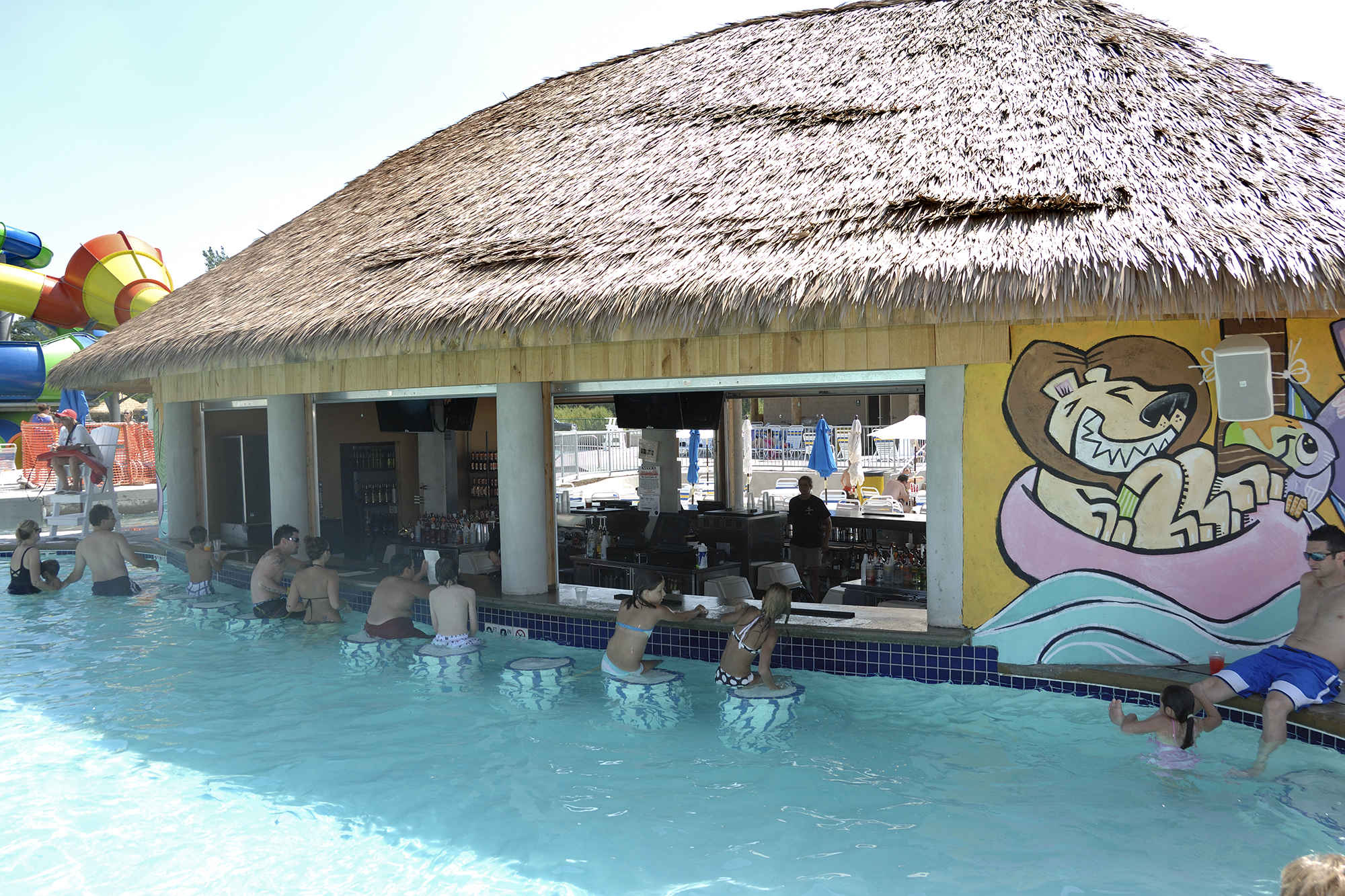 MudHut Swim-Up Bar at the Kalahari Resort
Wisonsin Dells, WI
Wisconsin is known for its cheese but they also are known for other things. For example, they know how to chill. How do I know? It's because inside their Kalahari Waterpark, they built an indoor swim-up bar. If that's not a sign that Wisconsin people are chill, I don't what is.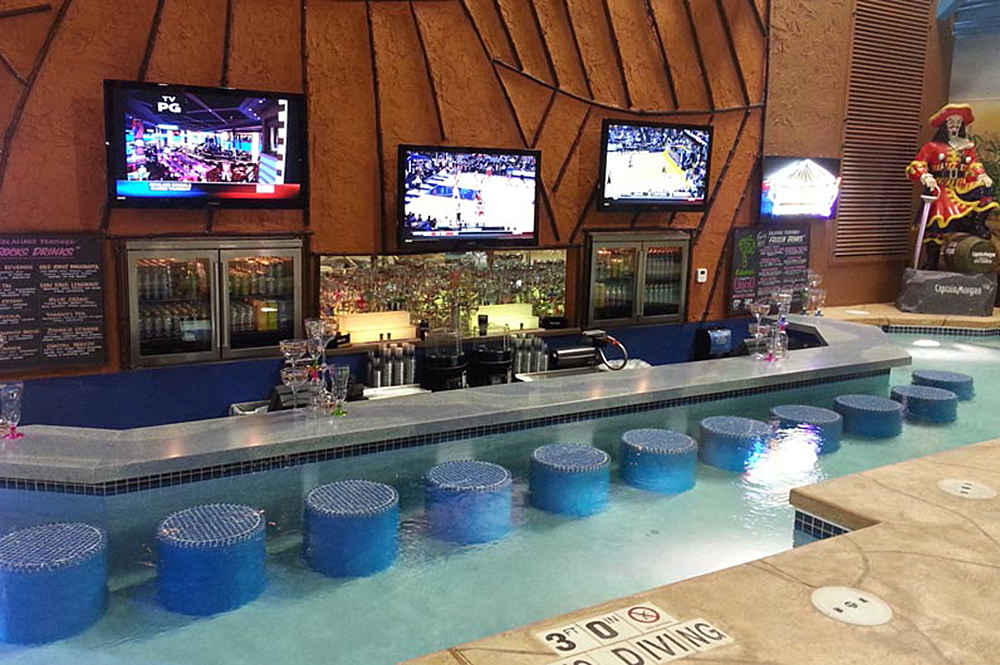 The Hard Rock Hotel & Casino Las Vegas
Las Vegas, NV
The Hard Rock Hotel & Casino in Las Vegas most sought after attraction is its pool. Surrounded by palm trees, VIP cabanas and lounge chairs, the massive pool includes drink service at their Skybar. Go on Sundays because its when you'll see the celebrity guests and famous DJs lounging in the pool.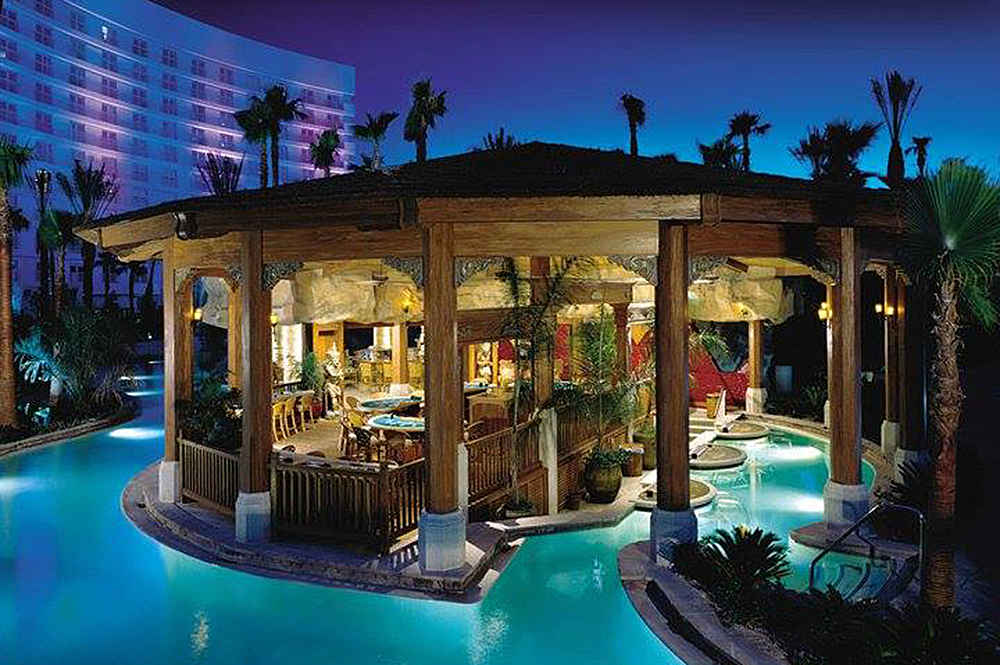 Lakeway Resort & Spa
Austin, TX
The Lakeway Resort & Spa offers a three-tiered pool with a swim-up bar as the tier's crowning glory. The bar offers a $8 cocktail specials on weekends.
The Serenity Pool at the Four Seasons Resort Maui at Wailea
Maui, HI
The Serenity Pool at the Four Season is an adult-only pool. A place where "responsible" people can swim up to a bar and enjoy the infinity edge pool with a perfect view of the West Maui mountain range. You can also enjoy the bar's music even under water because of their underwater music system. The bar also serve some pretty nifty specialty cocktails for thirsty guests.
Fortuna Pool at Caesar's Palace Las Vegas
Las Vegas, NV
With seven different pools, vast expanses of marbles and towering columns of white, The Garden of The Gods Oasis is certainly very decadent. There is no swim-up bar here but wait for it, there's a swim-up blackjack table at the Fortuna Pool. The Fortuna Bar is nearby and drinks are permitted at the swim-up blackjack tables so you can drink while you splash and gamble!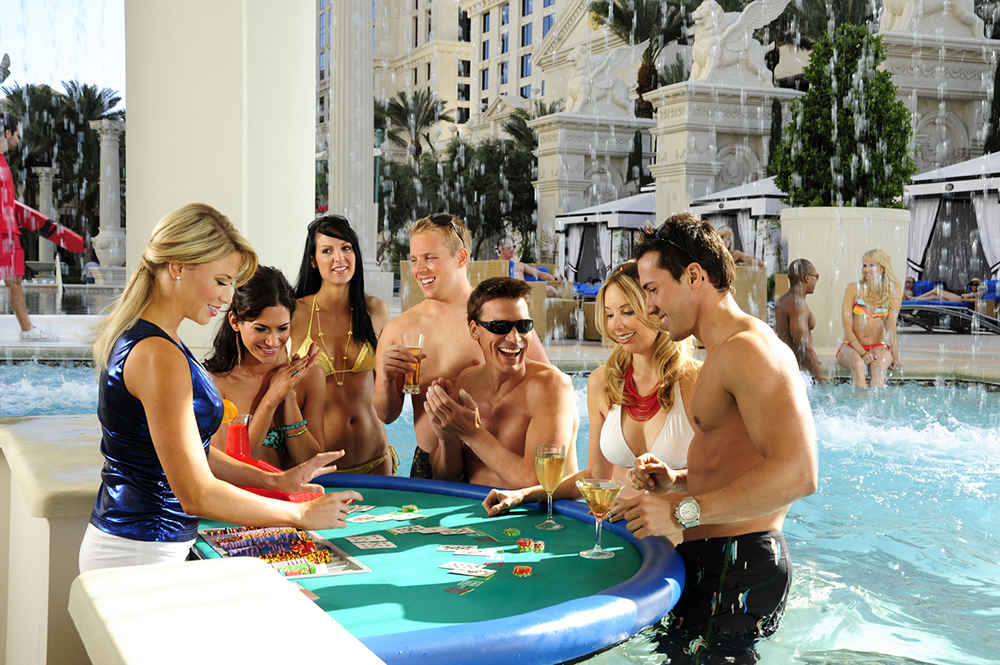 The Pool at Harrah's Ak-Chin
Maricopa, AZ
Margarita Sunday is every week at the swim-up bar at Harrah's Ak-Chin. For $10 cop wristband you can avail for two free drinks of wine, beer or margarita. A live band will serenade the guests while they order drinks and food at the swim-up bar.