Upholding law and order is no easy task.
Just ask your local police officers. Putting their life on the line for the safety of the many is one courageous occupation that is not for the faint hearted. From catching a petty thief to solving high profile crimes like busting a drug den, police officers need the right equipment and the trusty automobile to catch these lawbreakers before they plot their next crime.
If you think fast cars are merely for the Formula 1 race track, then you haven't seen the world's fastest police cars that will definitely catch the crook in no time.
10. Lexus IS-F – (UK) – 4.7 seconds; 168 mph
The Lexus IS-F was specially built to help policemen in the UK to tackle citizen's speeding habits. It has a top speed of 168 miles per hour and is capable of keeping up with most other cars. Used in northern England by the Humberside Police, this 416 horsepower beast is mostly used as a deterrent but it can also be used to chase crooks.
9. Ariel Atom (UK) – 2.5 seconds; 168 mph
Widely used in the UK, this is the one of the world's most unique police cars. The Ariel Atom can hit a top speed of 168 miles per hour and get to 60 miles per hour in just 2.5 seconds.
8. Spyker C8 Spyder (Netherlands) – 4.5 seconds; 186 mph
The Spyker C8 Spyder is the creation of Dutch based car manufacturer Spyker and is used by the police force in the Netherlands. This model can hit 186 miles per hour and soar to 60 mph in just 4.5 seconds.
7. Audi R8 GTR (Germany) – 3.2 seconds; 202 mph
If the Dutch have the Spyder, the German have the Audi R8 GTR.  This fine tuned supercar is capable of hitting 202 miles per hour and screaming to 60 miles per hour in only 3.2 seconds. This particular model was specifically for the police department which even comes with a 5.2-liter V10 engine to be able to make 620 horsepower, above the standard 518.
6. Lamborghini Gallardo LP560-4 (Italy) – 3.7 seconds; 203 mph
The Italian police are one lucky police force as their latest police car was donated by the Lamborghini company as an anniversary gift for the department back in 2004. The Gallardo LP560-4 can reach a a top speed of 203 miles per hour, and a 0-60 time of 3.7 seconds. It uses a 5.2-liter V10 engine to produce 560 horsepower, giving some bite to the Italian police's road presence.
5. Ferrari FF (UAE) – 3.7 seconds; 208 mph
The Ferrari FF model was modified specifically for Dubai's police office force. This car can hit searing speeds of 208 miles per hour, and jump to 60 in just 3.7 seconds. The FF is one of a handful of supercars used by the Dubai PD However, this particular car is driven exclusively by female officers.
4. Lamborghini Aventador LP 700-4 (UAE) – 2.9 seconds; 217 mph
The Aventador LP 700-4 is another super police car that is exclusively used by the Dubai Police Department. It can hit a top speed of 217 miles per hour, and jet to 60 mph from a standstill in 2.9 seconds.
3. Aston Martin One-77 (UAE) – 3.5 seconds; 220 mph
Here is another car that belong to the Dubai Police Department. The car itself is aptly-named, as only 77 were built. This super car has a 7.3-liter V12, that can go from 0-60 in 3.5 seconds and tops out at 220 miles per hour.
2.  Brabus Rocket (Germany) – 3.2 seconds; 225 mph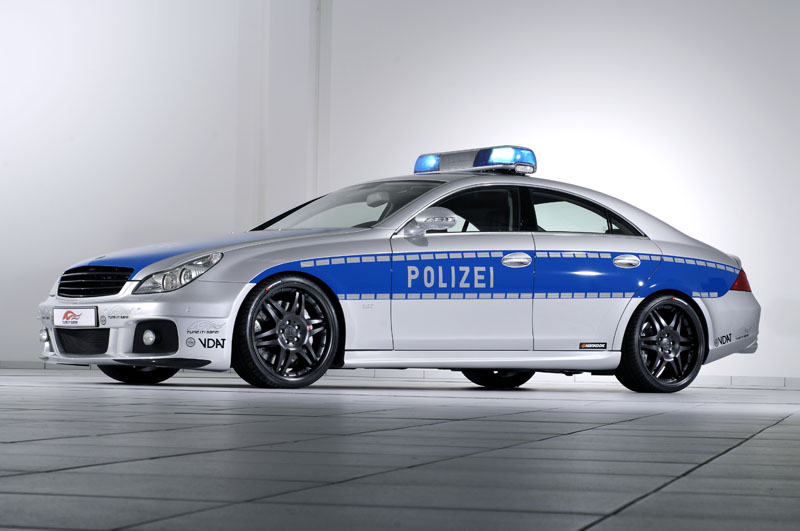 Mercedes' Brabus Rocket is a model that can keep up with almost any other car out there. This German police car is equipped with a 6.3-liter V12 powered car that is capable of hitting 225 miles per hour and going from 0-60 in 3.2 seconds. The car is not built for street patrols but was merely used in a program by the German Secretary of Transportation to inspire people to modify their cars responsibly and drive safely.
1. Bugatti Veyron (UAE) – 2.5 seconds; 268 mph
It seems the Dubai Police is one formidable force. From Ferrari to Lamborghini here is another car model that has joined their elite roster of police cars. The Bugatti Veyron, which is the latest addition to their police force is one of the world's fastest cars. The Veyron is capable of speeds up to 268 miles per hour and hitting 60 miles per hour from zero in just 2.5 seconds.
Get to know more about the newest members of the police action force in the videos below:
Check out related articles.