Laleh Mohmedi, a mother from Melbourne is taking food art to a whole new level. Using healthy food like veggies, she creates delicious dishes that are too beautiful to eat.
Among the many characters that have since appeared at the dinner table of her two-year-old son Jacob are The Lorax, Pinocchio, Michael Jackson, and Mr. Peabody.
"At the beginning I made him this lion, which looked more like a bear, and he just loved it," Mrs. Mohmedi explained to Daily Mail Australia.
"I've always been a big advocate for healthy and organic food," she added.
Mrs. Mohmedi wanted to share her designs, not only to other moms, but to the rest of the world. So, she created an Instagram account, @jacobs_food_diaries.  Since it was launched a few weeks ago, it has already amassed about 4,000 followers.
When asked about the difficulty of her food art, Mrs. Mohmedi only explained, "It takes about 20-35 minutes depending on the character. The night before, Jacob tells me what character he wants. When he tells me what character he wants from a book or something he's seen, I Google the image and see what colors they use".
As an advocate of healthy living, she uses vegetables, fruits, pancakes, eggs, wholemeal wraps, and rice to create her designs. She also said that any coloring was done using vegetables and fruits. Basically, everything she uses are found in the fridge.
Mrs. Mohmedi explained, "I have always made Jacob's food fresh. I make the cold elements first, then the hot elements. For breakfast, I will cut up fruit into the shapes, then cook the eggs at the end".
This Australian mother said food art was the best way to encourage picky eaters to consume their greens. She recalled, "I made a chicken one with owl meatbowls. In its sauce is probably about two handful of vegetables which I blend. They never know".
After she found out that food art was a clever way of getting kids involved in the kitchen, Mrs. Mohmedi is now encouraging other mothers to give food art a try. She said, "I look back at my first one and it was so simple and plain, but the kids don't know any better. Jacob's excitement from the first one I made to the ones I make now is the same".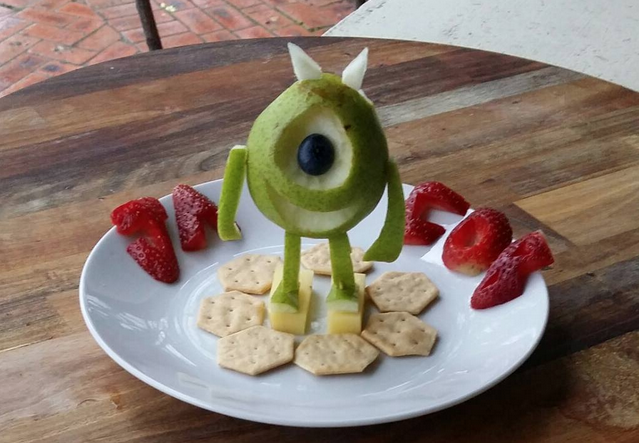 As long as her son enjoys what he is eating, Mrs. Mohmedi will continue with her food art. She said Jacob always looks forward to a different character each day, and he seems happy with whatever she makes.
"He's so excited for that food art meal, but he eats the other ones anyway. So, I'm not setting the bar too high," she said.
One day, Mrs. Mohmedi hopes to share her food creations in a book. This way, she can inspire other mothers out there, and at the same time, leave Jacob a keepsake of a fun childhood.
Check out other beautiful food art creations below: