Guinness Book of World Records once again presents its new record holders. But this time around, they aren't for individual stunts but for people fitting, squeezing, and cramming together for that highly esteemed honor. Let's check out what these folks could do.
Most People Crammed onto a Bed
Dressed in black singlets and hot pants, fifty female models—plus one lucky guy—managed to squeeze together on a king-size bed, setting the new world record for the Most People Simultaneously on a Bed.
First, they tried lying on the bed, but it didn't work. So they tried sitting on the bed, but it fit only twenty-seven girls. Finally, they tried standing on the bed, and fifty girls managed to fit in. They all held still there for the official 30 seconds that the Guinness demanded.
Most People Crammed into a Bus
Two hundred forty-six students from Norwid High School in Kielce, Southern Poland, managed to fit into a city bus. It set the new world record for the Most People Crammed on a Bus.
Most People in a Shower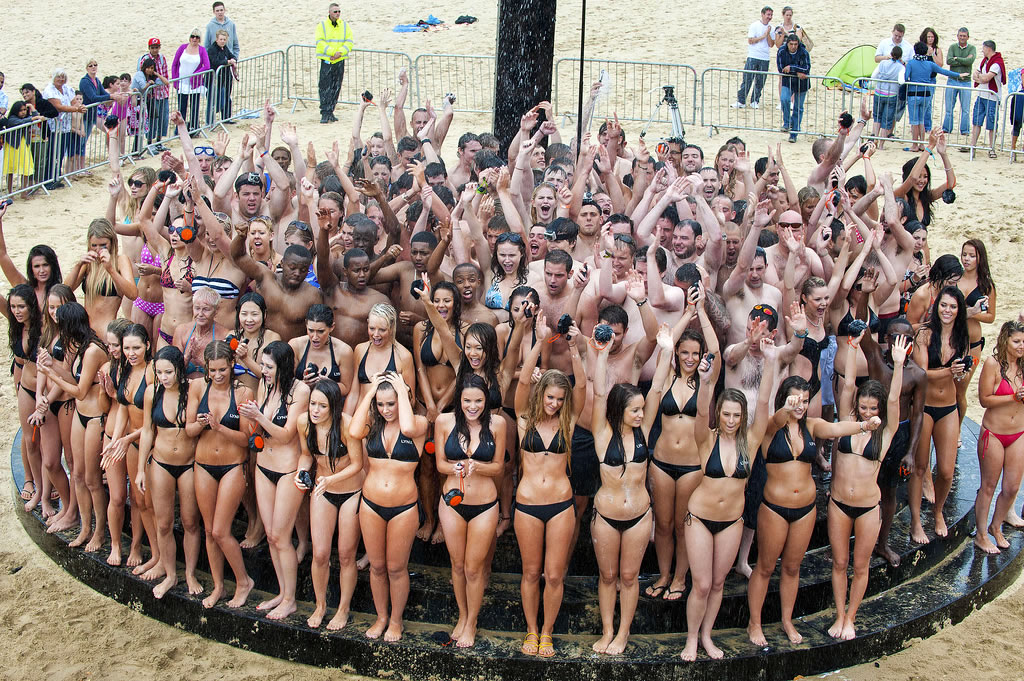 By people, we mean models.
This shower is not your ordinary shower as it can hold 152 people—er, models—in it. Lynx, true to their goal of making people smell better, got as many people to have a shower at once. Lynx once again beat itself as they broke the world record of the largest number of people using the same shower with 145 people.
Most People in a Pair of Underwear
In 2011, Pants to Poverty squeezed nearly sixty people into a huge pair of underpants during the Guinness World Records Day. Wearing only underwear and socks, the participants gathered in Canary Wharf in London, UK, and broke the record for the Most People Gathered in a Single Pair of Pants. The stunt was not only done for the record, but it was an opportunity to raise awareness about ethical conditions in the fashion industry.
Most People on One Motorbike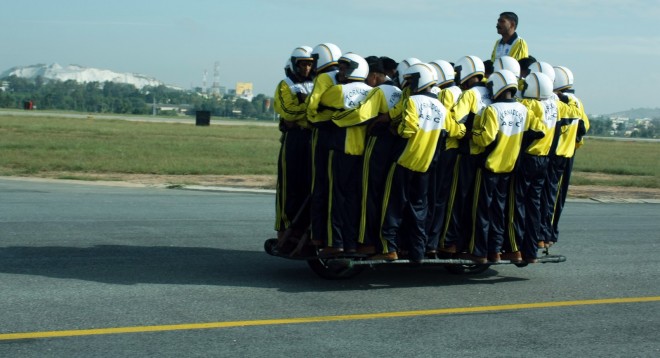 The world record for the biggest number of people on a motorcycle was set by the Indian Army's Motorcycle Display Team on November 28, 2010. Fifty-four people fit onto a 500 cc Royal Enfield, beating the record of forty-eight people set by the squad. The motorcycle covered a distance of 1.1 km at the Yahlanka Air Force Base in Bangalore.
Most People in a Mini Cooper
Twenty-six female dancers from the Pilobolus Dance Company crammed inside a mini cooper and managed to stay there with all the doors and windows shut for 5 seconds. For all of them to fit inside, the dancers had to be at least 5 ft tall.
Most Dogs on a Surfboard
During the Loews Coronado Bay Resort Surf Dog Competition in San Diego, California, seventeen dogs were fitted onto a single long board,making them to the holder of the world record for the Most Dogs on a Surfboard at One Time with a Human. At first, there were twenty dogs on the surfboard, but three dogs backed out.
Most People in a Box
Three contortionists from New Zealand—Skye Broberg, Nele Siezen, and Jola Siezen— climbed into a box measuring 66.04 x 68.58 x 55.88 cm (26 x 27 x 22 in) and stayed inside for 6 min 13.52 seconds.  They were awarded the Guinness world record in Auckland, New Zealand, on September 20, 2009.
Most People Crammed Inside a Tree
In 1961,  students at the University of Maine crammed inside a hollow tree as part of the Tree Stuffing contest held by the Pi Phi Sorority and Lambda Chi Alpha Fraternity at the university campus. The girls stuffed thirteen of them into a tree, while the boys squeezed fifteen.
Most People Crammed into a Photo Booth
A group of contortionists from London set a new record for the Most People Crammed into a Photo Booth when they squeezed seven flexible females into a tiny booth. The stunt was witnessed by a crowd of onlookers at the recently transformed King's Cross Station. Once inside, all participants must hold their positions for a minimum of five seconds. They must also be over the age of 18 and must measure at least 5 ft in height. The attempt was part of a promotional event for the photo booth operator Photo-Me, which at that time was offering free photos to the public.
Here are more record-breaking stories.