Last July 21, 2015, the Palm Beach County Sheriff's Office (PBCSO) became famous over the Internet after replying to a woman, known by her Twitter username @Rosa_Sparks, who shared on social media that she wanted someone to deliver her some weed.
Thursday afternoon, she tweeted, "Somebody bring me weed, I'll pay for it." In response, PBCSO replied, "Where should we meet you?"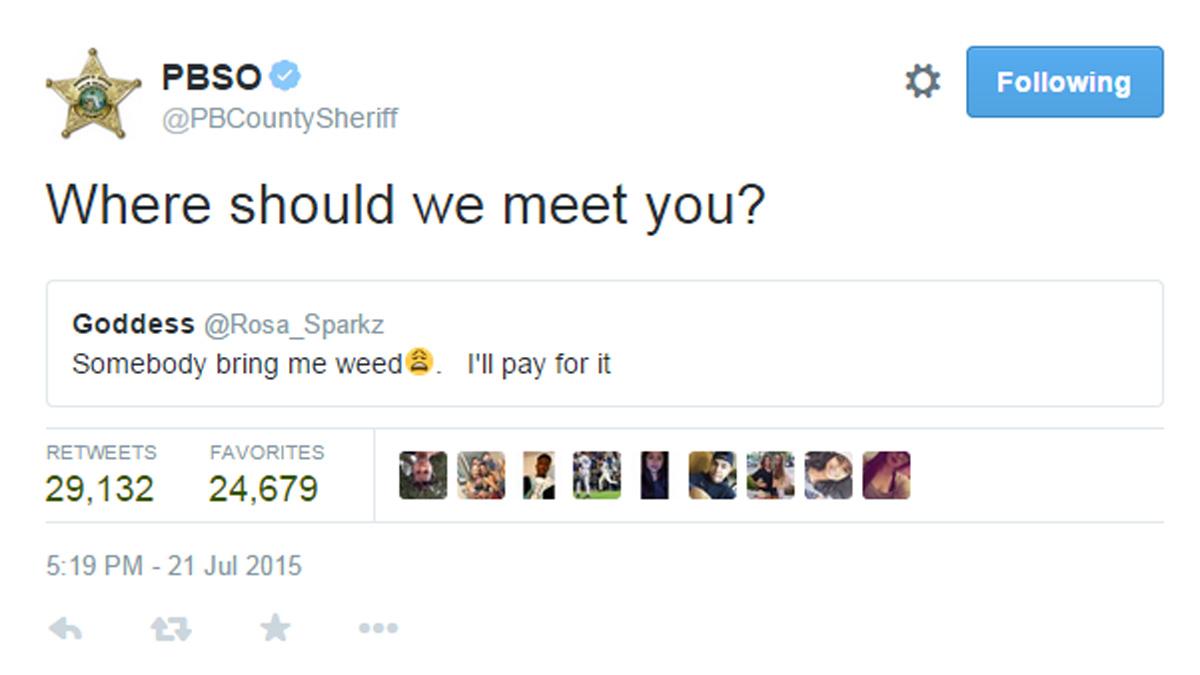 This prompted @Rosa_Sparkz to provide her location immediately. This was her reply:
@PBCountySheriff follow back so I can DM you the location 😏😂⛽️

— Goddess (@Rosa_Sparkz) July 21, 2015
Based on the information she has on her social media profiles, @Rosa_Sparkz is in her twenties. She is also known by the name Jasmine. Although it is unclear whether she really resides in Palm Beach County, there was an earlier report from NBC affiliate WFLA, indicating her profile placed her in Jupiter.
From her tweets, it seems that Jasmine isn't really worried about her sudden fame.
They called me Jupiter girl on the news 😂😂

— Goddess (@Rosa_Sparkz) July 22, 2015
I'm famous Yall!!! 😎🙏🏽 — Goddess (@Rosa_Sparkz) July 22, 2015
As of July 27, the viral tweet of PBCSO has been retweeted more than 93,000 times and favorited by over 80,000 users.
Here are other hilarious things you can read on social media.