Congratulations, gals and ghouls. You no longer have to sit around an browse Netflix to find the spookiest movie to watch tonight because we've done it for you!  It's not October yet but these films will make Summer feel like Halloween real quick.
So grab some popcorn, hit the lights, Ignore all those bumps in the night. Here we go:
Scroll down for the videos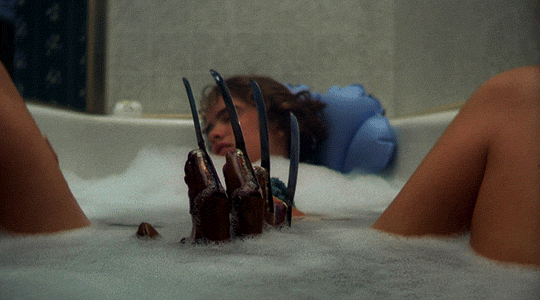 A Nightmare on Elm Street
It's here! It's finally here! Sequels to Wes Craven's all-time classic 1984 horror movie have been on Netflix for awhile now and now the original will be making its debut as well. A Nightmare on Elm Street is one of the best horror movies of all time for many reasons: the direction, the iconic Freddy Krueger, and much more. But more than anything, it's the idea that there is no escape. Sure you can run, sure you can hide. You also have to sleep at one point. And when you do you'll dream. And when you dream: you're dead.
An American Werewolf in London
Quite possibly the definitive werewolf movie, John Landis' 1981 horror masterpiece has the single greatest on-screen lycanthropic transformation in movie history…and that's only one of its appeals.
Peppered with loving references to the werewolf movies that came before it and a few legitimate laughs to go along with the scares, An American Werewolf in London is remarkably knowing and self-aware, but never, ever flirts with parody. Not enough can be said about Rick Baker's practical effects, which extend beyond the aforementioned on-screen transformation and into one of the most gruesome depictions of a werewolf attack aftermath you're ever likely to see. A classic of the era.
The Babadook
When Stephen King once discussed his inspiration for writing The Shining, he recalled the time he discovered his young son had destroyed story notes in his office. "I could kill him," King mused of his mindset in that moment. Jennifer Kent's The Babadook likewise finds the darker side of parenting with the scariest film of 2014.
A horror movie that is ostensibly about what happens when a single, low-income mother discovers that her child's nightmare boogeyman is real, there is genuinely realterror here that comes beating from the darker side of her "Babadook" heart. While a loving son, there is no denying that the film's young Samuel is a "problem child," and through supernatural possession his mama has found a grim solution of sorts. When William Friedkin calls it the most terrifying horror movie he's seen, you're doing something right.
Beyond the Gates
Board games can be creepy. VHS tapes can be creepy. Combine the creepiest versions of both and you've got yourself a really creepy movie. Beyond the Gates debuted just last year at the L.A. Film Festival and has ridden its way to Netflix on tremendous word of mouth. The indie horror movie involves two brothers who got to their father's estate to settle his affairs after his death. While at his house, they discover a mysterious VHS board game that eventually leads them to clues regarding their father's death…and pure abject horror.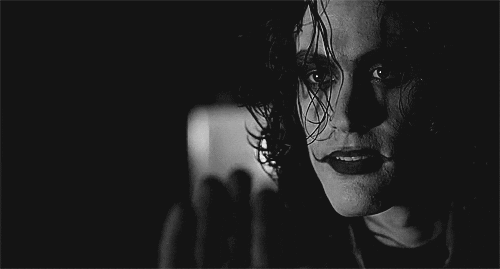 The Crow
While we wouldn't call this one a horror film per se, The Crow is definitely a twisted revenge tale with some very dark moments. Based on a celebrated comic book, the movie's premise is a bit out there: a dead musician named Eric Draven is brought back from the dead by a supernatural crow so that he can avenge the rape and murder of his fiance. Draven sinks deeper into the seedy underworld of Detroit on Devil's Night, taking out the thugs that ended his life in gruesome ways.
It is a real artistic gem, too, full of gothic spirit and an awesome soundtrack to boot. Brandon Lee, who tragically died in an accident during filming, gives an inspired performance as Draven.
Dead Silence
While hardly the definitive "killer doll" movie, Dead Silence is an interesting flick because of how it marks a transition for director James Wan. The shrewd filmmaking director of the three biggest hit horror movies in the last 12 years—Saw, Insidious, and The Conjuring—had this one little anomaly in between the first two. Perhaps because he was not quite ready to be considered a "horror director" (he would go on to direct Furious 7 and is now slated to helm Aquaman), this is an enjoyably odd duck of film with elements of comedy, police procedural, and the occasionally pitch perfect horror set piece that he would begin cranking out in his sleep by the time The Conjuring and Insidious: Chapter 2 opened in the same summer.
In many ways the prototype for the "Annabelle" prologue in Conjuring, Dead Silence tracks the curse of Mary Shaw a ventriloquist who made up for what she lacked in skill with murder. After killing a boy who dared to notice her lips moved while working with her dummy Billy, she herself was killed by vigilantes who removed her tongue—and generations henceforth of their descendants have shared the same mysterious fate when confronted with dummy Bill (hint: whatever you do, don't scream).
The movie has a nifty twist ending and is just silly enough to make for a pleasant collection of jump scares and faux urban legend mythmaking, if not exactly a memorable classic.
Dead Snow
There are plenty of zombie movies, TV shows, video games, and even comics out there. But if you haven't seen Dead Snow yet, rest assured that there is one walking dead realm not yet traversed for your viewing pleasure: Nazi zombies, of course!
In Tommy Wirkola's Norwegian calling card, the filmmaker reimagines the zombie genre to be one of snow, sleds, and swastikas. That's what happens when a handful of friends decide that they want to go camping and skiing while in a cabin in the woods. Little did they realize that this mountain holds a terrible secret about a band of rogue Nazis who froze to death there in the winter of '44. It turns out they died protecting their stolen Nazi gold, and they are so greedy that even in the Great Beyond, they will rise to protect the treasure. Thus it's likely unwise to disturb any gold pieces that you find there. Too late.
Okay, the plot is an excuse to see smarter-than-average zombies goose-steeping their way into elaborately graphic kills at the hands of snowmobiles, chainsaws, and all manner of skiing equipment. The gore is nasty and so is the fun.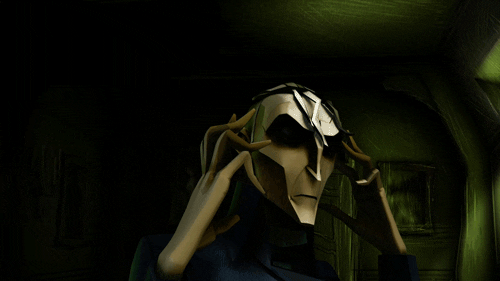 Extraordinary Tales
Some of Edgar Allan Poe's most terror-inducing tales creep and crawl off the page in this animated horrorshow that isn't just for kids. The aesthetic of each tale illustrates its particular terror. His Victorian nightmares materialize onscreen in different forms of animation ranging from eerie silhouettes to comic-book graphics to a 3-D effect that makes phantoms pop like digital origami. Poe himself (as—what else—a raven) converses with Death between tales, giving you enough time to catch your breath and calm the beating of your hideous heart before the next freakout.
The Tell-Tale Heart pounds beneath the floorboards in a series of black and white silhouettes, a stark visual of innocence and murder, set to a vintage narration by Bela Lugosi. The torture chamber in the Pit and the Pendulum is so lifelike you think you're the one about to be razored open. Poe must be grinning from beyond the grave.
From Dusk Till Dawn
And here we have what is quite possibly the most quotable film on this list, although certainly not the best. The pairing of Robert Rodriguez (director) and Quentin Tarantino (writer) made for an insane, two-pronged Grindhouse-style extravaganza. It's a low-rent heist aftermath movie for its first half and then it shifts gears into insane survival horror for the second.
From Dusk Till Dawn is the only movie you're going to watch this month that features Tom Savini wielding a gun on his crotch, and Fred Williamson killing vampires alongside George Clooney and Harvey Keitel. It's unlikely you haven't seen this one, but even if you have, there's always a good time to be had at the Titty Twister.
The Fury
Brian De Palma is the filmmaker responsible for possibly the best adaptation of a Stephen King novel (Carrie), but he followed that up with this equally perverse, but sadly less remembered, cult classic. The Fury is essentially a grim, nihilist's version of what would happen if Charles Xavier and Jean Grey were not so nice.
In this horror film, twin siblings have the ability to enter anyone's mind–and kill them in the most De Palma way possible. This is used to negative effect by the U.S. government and features fun performances by Kirk Douglas and John Cassavettes. It also includes Carrie's Amy Irving.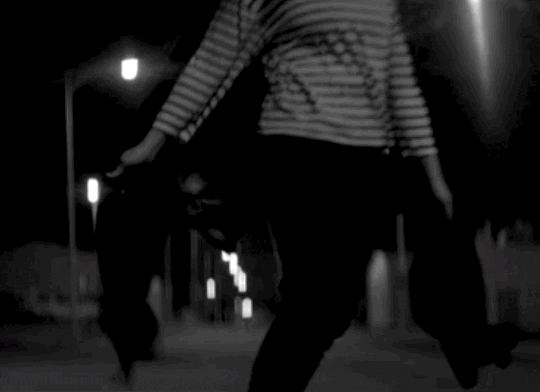 A Girl Walks Home Alone at Night
In the Iranian ghost town of Bad City, there is a girl who walks alone at night. But if you should venture to speak with her, you might regret finding out why.
This wonderfully surreal film from Iranian-American director Ana Lily Amirpour should bridge differences with its implicitly lascivious nature. A young man who is forced to walk a depressing and desolate street because his father is a heroin addict finds himself enamored with a young woman whose black cape might be a shroud for all the corpses she leaves in her wake. It's clever, occasionally romantic, and completely subversive of both real-life cultures and their vampiric alternatives.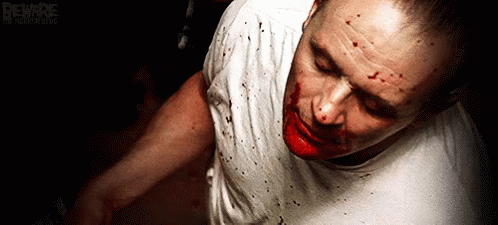 Hannibal
While hardly the best film to feature Anthony Hopkins as Dr. Hannibal Lecter, there is still plenty to admire about this 2001 follow-up to the beloved Silence of the Lambs. For starters, Hannibal the Cannibal is back, and Hopkins' gift for scene-chewing again allows him to make the consumption of human flesh seem kind of classy. Additionally, director Ridley Scott offers a visually stunning and suprisingly grim perspective for the monuments of Florence, and the decadence of European aristocracy while stalking Lecter's movements.
For just the first hour alone, as Giancarlo Giannini plays a cat-and-mouse game with Hannibal where it is unclear who is hunter and who is prey, Hannibal can make the skin crawl. And the good doctor would probably consider that a delicacy, too.
Hellraiser
Of the first of three theatrical films that Clive Barker would direct himself, Hellraiser would go on to warrant eight sequels and create one of the most notorious horror franchises of all time. That said, this isn't about the sequels. Part of the beauty of Hellraiser is how little we actually know about what is going on. While later tales would explain the origins of Pinhead and his Cenobites, the first film leaves this up to interpretation.
Hellraiser focuses on the relationship between Julia and Frank, not on the Cenobites' interference (well, not until the end anyway). The first film is not the broad battle against evil the later installments would be, but an incredibly unique haunted house story. A corrupt romance growing ever more so. Sex and violence mixed with blood and guts. With a budget of roughly $1 million, Barker is able to craft a tale far more interesting and disturbing than better funded projects, the sequels included. Pain and pleasure, indivisible.
Honeymoon
You probably have had that moment: the one where you're not sure if you can truly understand what your partner is thinking. Well, the greatly underappreciated Honeymoon takes that sensation and amplifies it a thousand-fold for incredibly icky, body horror results.
Essentially flipping the script from Rosemary's Baby, Harry Treadaway and Rose Leslie (of Penny Dreadful and Game of Thrones fame, respectively) are visiting the bride's family lake house as a honeymoon retreat. They weren't planning on going outside much anyway. However, perhaps they should, as things get a bit tense once Treadaway's Paul finds Bea (Leslie) walking naked in the woods at night, completely catatonic at first. After that things get weird.
Even if you have a rough idea where Honeymoon is going from that point on, the slow burn will still eventually get under your skin. As the husband realizes he has no idea what's going on in his wife's pretty head, you start to second guess even your best theories. And then things enter the realm of the truly fucked up for the finale.
The Host
One of the greatest horror movies of the past decade is on Netflix, and it is a beautiful monster to behold. As what was once the most popular South Korean film ever upon its release, The Host was the third horror movie from genre master Bong Joon-ho and starred the country's biggest star, Song Kang-ho. However, more important than all the glitz, is that at its core there was a truly special chiller that acts just as much as a modern Grimm fairy tale as it does a delightfully twisted creature feature.
Inspired by real events in 2000 when a Korean mortician contracted by the U.S. military stationed in Seoul dumped large amounts of formaldehyde down the drain and into the Han river, leading to a small eco-crisis, a political disaster for the U.S. government, and deformed fish, The Host imagines a scenario where ambivalent U.S. officials dump even more of the stuff into the waterway, causing the birth of a giant amphibious monster. Soon, it attacks the mainland and kidnaps Park Gang-du's (Kang-ho) daughter, Hyun-seo (Go Ah-sung).
What follows is a surprisingly moving and transcendent account of a man chasing a giant monster (designed in the WETA workshop, no less!) to bring his child home.
Hush
In his follow-up to the cult classic Oculus, Mike Flanagan makes one of the cleverer horror movies on this list. Hush is a thrilling game of cat-and-mouse with the typical nightmare of a home invasion occurring, yet it also turns conventions of that familiar terror on its head. For instance, the savvy angle about this movie is Kate Siegel (who co-wrote the movie with Flanagan) plays Maddie, a deaf and mute woman living in the woods alone. Like Audrey Hepburn's blind woman from the progenitor of home invasion stories, Wait Until Dark (1967), Maddie is completely isolated when she is marked for death by a menacing monster in human flesh.
Further, like the masked villains of so many more generic home invasion movies (I'm looking square at you, Strangers), John Gallagher Jr.'s "Man" wears a mask as he sneaks into her house. However, the functions of this story are laid bare since we actually keep an eye on what the "Man" is doing at all times, and how he is getting or not getting into the house in any given scene. He is not aided by filmmakers who've given him faux-supernatural and omnipotent abilities like other versions of these stories, and he's not an "Other;" he is a man who does take his mask off, and his lust for murder is not so much fetishized as shown for the repulsive behavior that it is. And still, Maddie proves to be both resourceful and painfully ill-equipped to take him on in this tense battle of wills.
All of this inversion and shrewdness makes Hush one of several excellent horror movies to come out of 2016.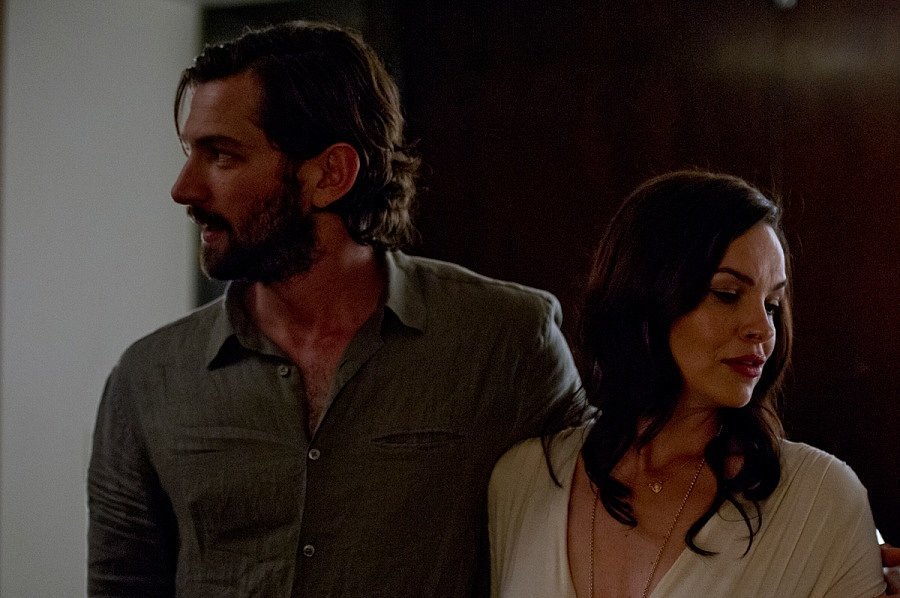 The Invitation
Seeing your ex is always uncomfortable, but imagine if your ex-wife invited you to a dinner party with her new husband? That is just about the least creepy thing in this new, taut thriller nestled in the Hollywood Hills. Indeed, in The Invitation Logan Marshall-Green's Will is invited by his estranged wife (Tammy Blanchard) for dinner with her new hubby David (Michael Huisman of Game of Thrones ). David apparently wanted to extend the bread-breaking offer personally since he has something he wants to invite both Will and all his other guests into joining. And it isn't a game of Scrabble…
Intense, strange, and not what you expect, this is one of the more inventive thrillers of 2016.
It Follows
Independent horror has been enjoying a wonderful renaissance over the last three years, and David Robert Mitchell's It Follows has been right at the forefront of this, hypnotically swaying away in its perverse delirium. Here is a movie that most forcefully makes the connection between death and sex, sin and punishment, which has haunted the genre for decades. And by setting its deconstructionist fairytale in a dreamlike amalgamation of the 1980s and the 21st century, it proves that Reagan era suburbia is our generation's windswept European castles.
But above all else, it's just an unnerving viewing experience that makes the relentless sensation of dread and death as inescapable for youth as the ticking crocodile is for a middle-aged Captain Hook. Maika Monroe's Jay is a young woman who finds peace in illicit rendezvouses, but is then cruelly punished when her new boyfriend spreads a kind of supernatural STD: it's a curse where once you have it, a ghost will slowly but eternally chase you until it can rape you to death… lest you pass the curse to someone else, who in turn must spread it farther afield. Cynical feminism or regressive exploitation? It's an ongoing argument, but either way this movie is scary.
The Legend of Hell House
One of the quintessential, campy British haunted house movies of the 1970s, The Legend of Hell House is a deliberate but amusing trip back into old school mysticism. Structured around the classic scenario of academic rationalists trying to prove (or discredit) the supernatural, the film is about a skeptical husband and his wife spending a number of nights in the "Mount Everest of Haunted Houses." The Belasco Home was the sight of more than a few grisly murders when its wealthy owner Emeric vanished following a dinner party that ended in a slaughter. Emeric is also said to be a tall pervert who enjoyed many twisted desires in this estate, which is now haunted by the spirits of his victims.
Be warned this is a slow burn product of the '70s that mostly relies on atmosphere and two winsome performances from the film's unrelated mediums, played by Pamela Franklin and Roddy McDowall.
Never Sleep Again: The Elm Street Legacy
For some unfathomable reason, Netflix chose to remove the original Nightmare on Elm Street, by far the most atmospheric of the series, from its rolls on October 1st, the very day that kicks off horror movie season. While you could content yourself with the spectacularly homoerotic (but vastly inferior) Nightmare on Elm Street 2, you're better off reflecting on the entire franchise with this documentary.
Never Sleep Again isn't just a title. Make sure not to start this one too late in the evening, because it's a whopping four hours long, which is to be expected since it has eight movies to cover (the 2010 remake is thankfully ignored). While we might be cheating just a little bit by including this, four hours detailing the genesis of horror's most genuine supervillain is just too good to pass up in October.
The Nightmare Before Christmas
The Nightmare Before Christmas is a Christmas movie, not a Halloween movie. The 1993 movie is based on a poem by Tim Burton and directed by start-stop animation wizard Henry Selick. The music was written by Danny Elfman, who sings the part of Jack Skellington. Chris Sarandon (Dog Day Afternoon, Fright Night) does the speaking voice. Catherine O'Hara (After Hours, Best In Show) plays Sally, the rag doll created to keep William Hickey's mad scientist company, but who loves Jack. Paul Reubens, aka Pee Wee plays a trick or treater loyal to the Boogie Man.
Skellington discovers a portal from Halloween Town to Christmas Town and decides to exchange gifts. The voices are wonderful. The songs are perennial. You can watch this with your kids when they are infants to get away from whatever kiddie shows they're supposed to be watching. You become a kid again. It is that transformative.
Ravenous
Cannibals get a bad rap. It's nothing personal; they just need your energy to come closer to realizing their potential as mystic gods. That's certainly the operating logic in Ravenous, a delicious slice of juicy horror-comedy.
In one of the most unlikely of genre mash-ups, Ravenous starts out as a period piece not that far removed from Dances with Wolves when Capt. John Boyd (Guy Pearce) is assigned to a desolate outpost by the U.S. cavalry in the 19th century. And there, he will meet a drifter (Robert Carlyle) who brings tales of cannibalism and survival in the wilderness. But as they approach where the incident occurred, it turns out there was no survival at all.
As horror derived from a comedy of manners, this is the sweetest tasting movie about consuming human flesh you're likely to ever come across.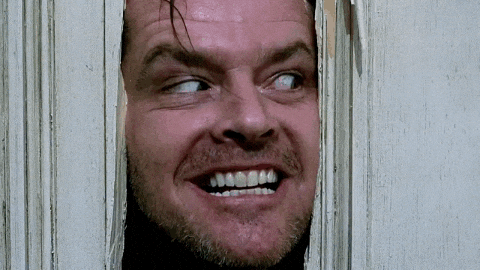 The Shining
"Here's Johnny;" "All work and no play makes Jack a dull boy;" "Redrum, Redrum."
The many lines of Stanley Kubrick's masterfully bizarre The Shining have gone on to be pop culture icons in their own right for a reason. Indeed, this fetishistic ode to the past and madness is so frustratingly enigmatic that even its perverse auteur wasn't quite sure what it all meant—nor is author Stephen King who took a special degree of umbrage at this adaptation's flagrant disregard for his source material. But that's alright, because for the rest of us The Shining is every bit the masterpiece its reputation suggests.
Starring Jack Nicholson in one of his career-defining roles—which he would later repeat in variations to the point of parody—The Shining features the classic movie star at his most demented and unnerving. Playing Jack Torrance as a novelist who is already half-mad before even meeting a ghost (assuming of course there are actually ghosts, right?), he is the scariest thing in this movie. And with unforgettably skin-crawling visions like murdered twin girls roaming the hallways, rivers of blood pouring down a hallway, and the grossest film fatale in movie history, that is saying something.
The Sixth Sense
The Sixth Sense is much more than a twist ending. The nearly 20-year-old movie has been meme'd to within an inch of its life even back before we had a term for internet memes. "I see dead people," the twist ending, etc. On some level that's a shame because M. Night Shyamalan's first big budget film effort remains a surprisingly excellent horror movie to this day.
Haley Joel Osment stars as the young Cole Sears, a boy plagued by visions of dead people wandering around his day-to-day life. Bruce Willis steps in as therapist Malcolm Crowe to help Cole. Seeing dead people in the condition in which they died every day is a pretty horrifying concept. And no amount of twist ending surprises can rob the images of the dead that populate The Sixth Sense of some power. This is a movie that is certainly overdo for a rewatch.
Stage Fright
Worth seeing primarily for its novelty factor, Stage Fright is the most earnest clarion call for a musical-horror movie you're ever see. And when it does work, it sings with pristine voice of blood curdling joy.
Admittedly, quite the campy experience, Stage Fright takes place in the kind of musical theatre camp that the kids on Glee always dreamed of attending. But it has its cool points too since it is run by Meat Loaf Aday (who is, you guessed it, Meat Loaf). But unfortunately, when he decides to put on at the camp the musical that his muse opened on Broadway (Minnie Driver) before her brutal, and gory slaughtering, the killings start up again at the camp. Now the daughter of the dead diva, Camilla (Allie MacDonald), will have to find the song in her heart—or else a knife will.
Sweeney Todd: The Demon Barber of Fleet Street
Yes, this is a musical. A bloody good one at that! It is also the last truly great Tim Burton movie and it plays just as much to his obsession with classic 1930s and '40s horror as it does to Stephen Sondheim melodies. Indeed, the film is intentionally evocative of the misty London soundstages from classic Universal horror movies like Dracula and the more psychologically hellish Val Lewton efforts of the '40s, such as The Body Snatcher. The movie has an almost black and white appearance until the bright red blood starts pouring by the bucket load.
More a tragedy in Burton's hands than a comedy, this is the grimmest musical ever put to screen and its ending haunts the mind with as much intensity as the melancholic ballads.
Tales From the Darkside: The Movie
There aren't enough horror anthologies out there in general, and we certainly need more of 'em represented on lists like this. For fans of Tales From The Crypt, the delightful Creepshow (and its less-delightful sequels), or the cult classic Trick 'r Treat, there's Tales From The Darkside: The Movie.
This is, essentially, a slicker version of the TV series of the same name, with a framing sequence linking three tales of horror together, with the real standout being George A. Romero's adaptation of Stephen King's "Cat From Hell." (editor's note: "Lot 249" is also a delight with a very young Steve Buscemi, Julianne Moore, and Christian Slater!). But in general, like most horror movies of the era, and the anthology format in particular, Tales From The Darkside: The Movie is like a fun size Snickers bar for horror movie season.
Tucker and Dale vs. Evil
Tucker and Dale vs. Evil is a fantastic little satire on the horror genre that, in a similar fashion to Scream, is packed with laughs, gore, and a bit of a message. When a group of preppy college students head out to the backwoods for a camping trip, they stumble upon two good-natured good ol' boys that they mistake for homicidal hillbillies.
Their quick, off-the-mark judgment of Tucker and Dale lead to these snobs getting themselves into sticky, often bloody, and hilariously over-the-top situations. Tucker and Dale vs. Evil rides a one-joke premise to successful heights and teaches audiences to not judge a book by its cover.
Under the Shadow
This recent 2016 effort could not possibly be more timely as it sympathizes, and terrorizes, an Iranian single mother and child in 1980s Tehran. Like a draconian travel ban, Shideh (Narges Rashidi) and her son Dorsa (Avin Manshadi) are malevolently targeted by a force of supreme evil. This occurs after Dorsa's father, a doctor, is called away to serve the Iranian army in post-revolution and war-torn Iran. In his absence evil seeps in… as does a quality horror movie with heightened emotional weight.
V/H/S/2
We tried to keep found footage off this list as much as possible. However, Netflix continues rotating out the greatest horror, and sometimes a few bits of found footage are more than worth suffering through the gimmickry of an overall presentation. That is why we are not really recommending all of V/H/S/2, but simply two terrific sequences in it.
The first is Eduardo Sánchez and Gregg Hale's pretty nifty reinvention of the zombie genre, "A Ride in the Park." The perfect amount of screentime for the film to feel clever without overstaying its welcome, the short features a cyclist named Mike who is trying to make a Go Pro video with a camera mounted on his helmet. Yet, when he finds a hiker that appears to have bitten off more than he can chew, Mike tries to be a good guy and stops to help. Things get wickedly fun from there.
Yet, the real standout is "Safe Haven," a bizarre and exhilarating nightmare from Timo Tjahjanto and Gareth Evans (of The Raid films!). When a news crew infiltrates an Indonesian cult that babbles about prophecy and the end of the world, they are shocked to discover that there is something even more sinister going on here than is imaginable. Relying on long, seemingly sustained handheld camera shots, "Safe Haven" goes completely into the realm of madness and Lovecraftian levels of freakiness as the short film rushes through a pulsating third act that will not let up.
We Are What We Are
Tradition, it's what separates us from the animals. We pass down the customs, knowledge, and practices of our ancestors, and thus keep their spirits alive. That's a good thing, right?
… Well yes and no. Take the Parker family for instance. Their habit of practicing their family's preferred hobby every evening is admirable in the sense that it brings the family closer together. However, it's not so nice to all the neighboring families when this is achieved by cannibalism. And you thought one asking to borrow a cup of sugar was bad!
Yep, We Are What We Are was the little cannibalism film that could at both Sundance and Cannes in 2013. And while it is also technically a remake of a Mexican film of the same name, this do-over adds a very nice American flavor to accompany the juiciest sides of liver and spline that come with all the gut-wrenching tension inherent with backwoods disembowelment. Bon appetit.
Wes Craven's New Nightmare
But as long as we're reveling in Freddy goodness, we might suggest you top off your four hours of Never Sleep Again binging with a Wes Craven's New Nightmare nightcap. Ostensibly the seventh film in the Nightmare on Elm Street series, this knotty film is really so much more. As Craven's first crack at meta post-modernism before Scream a year later, New Nightmare is high on ambition and also a little rough around the edges. But that doesn't change the fact that it knows how to cut deep in its central premise.
With New Nightmare, Heather Langenkamp returns to the franchise as its star—but now she is playing version of herself, as opposed to Nancy Thompson (the original Nightmare survivor girl). In her world, the Freddy movies petered out like in our own with the lame Freddy's Dead, but in the absence of New Line Cinema's original mascot, Heather has been having bad dreams about a meaner, more demonic Freddy Krueger. Stranger still though is that her former co-star (and Freddy Krueger himself) Robert Englund is also having them. And not-so-coincidentally, this is around the same time that they learn Wes Craven is working on a script for a new Freddy film.
If this doesn't already sound meta enough for you, keep in mind that Craven also incorporated into his story aspects of Langenkamp's real personal life like a special effects expert husband, a young son, and even a stalker. It's level of twisted self-awareness is bold, as is its determination to draw parallels with horror cinema and its fairy tale origins—and not to mention throw shade on the many mediocre Nightmare on Elm Street sequels (but we still have a soft spot for Dream Warriors!).
The film's reach exceeds its grasp, but there is still enough here to fascinate, most especially with the focus again drifting on making Freddy Krueger scary, and making the object of his sickened and perverse desire sympathetic. It turns out orphaning children is much nastier business than cracking wise with co-eds. The result is a slasher movie unlike any other you have ever seen. Plus, it features Wes Craven onscreen explaining his nutty premise. Bizarre stuff, indeed.
The Void
What is Stranger Things-esque '80s throwback The Void about? Allow Den of Geek critic Kirsten Howard to explain: "The film's plot is simple enough, with an Assault On Precinct 13-esque set-up. A fairly small gaggle of unfortunate souls find themselves trapped in a run-down hospital one evening, as a large cult of robe-wearing knife-wielders bear down on them from the outside and a plethora of endlessly-transforming gooey monsters try to consume them from the inside."
WATCH MORE:
</center>